Map
2Go Iceland Travel
2Go Iceland Travel is your one-stop shop for all your travel needs in Iceland. Focusing on private tours, luxury vacations, and tailor-made experience
360° Boutique Hotel
It´s all about service! The 4-star rated 360° Boutique Hotel and Thermal Baths offers 13 spacious rooms (28-55sqm), timeless decoration, the floor to
Almannaskarð
Almannaskarð is an old mountain road about 10 km to the east of Höfn. Today the southwest ramp is closed for car traffic, as in 2005 it was replaced b
Arctic Adventures
Arctic Adventures is a premier provider of recreational tours in Iceland, with a vast selection of trips and activities available throughout the count
Arctic Exclusive Luxury Travel Solutions
Arctic Exclusive is a small and personal company owned and run by a father and son. We aim to provide the most luxurious and personal service availabl
Arctic Exclusive Ranch
Arctic Exclusive Ranch, 800 Acre farm in the South East of Iceland. Perfectly located half way between Reykjavik and Jökulsárlón glacier lagoon. We a
Arctic Rafting
From Gullfoss waterfall, a glorious canyon descends down, creating the perfect scenario for a fun rafting experience. The Hvítá river originates from
Arnanes
Arnanes Country Hotel is a family-run company, established in May 1993 in our own home, located in Nesjahverfi, 1,5 km from Arnanes.In August 1993 we
Atlantsflug - flightseeing.is
Atlantsflug offers sightseeing flights by helicopter and fixed wing aircraft from Skaftafell Terminal – Tour Center, giving you a breathtakingly spect
Álftavatn in Rangárvallaafréttur
There are lodges at Álftavatn, and Arctic char can be caught in the lake. Álftavatn is close to places of great natural beauty such as Grashagi, Torfa
Álftaversgígar
Álftaversgígar is a protected natural phenomenon of international geological significance. An area of rootless cones (pseudocraters) formed by the Eld
ÁRNES
Árnes is a small village with inhabitants of ca 50. In Árnes, there is a small convenience store, a swimming pool, a campsite, and a guesthouse.  &he
Árnes Swimming Pool
Neslaug is a small swimming pool close to the campsite at Árnes. It is open most days in the summer time, but usually 1-2 days per week in the wintert
Árnessýsla Heritage Museum in Eyrarbakki
The Merchants House in Eyrarbakki, was built in 1765 when Danish merchants began to overwinter in Iceland. Merchant families lived in the House for tw
ÁSAHREPPUR
Ásahreppur is a community on the western edge of Rangárvallasýsla and takes its name from  "the ásar", natural ridges in the area. On the Ring Road th
Ásavegur - trail
The trail Ásavegur used to be an important highway through the South of Iceland. This centuries-old man-made route would be used by people from differ
Bakkastofa Culture Center
Icelandic Culture Center Bakkastofa welcomes guests with stories and music, where the history and culture of the nation is in focus. Short video intro
Bakki HI Hostel & Apartments
Located in the quaint seaside town of Eyrarbakki, your gateway to the Golden Circle and the South Coast. Gullfoss, Geysir, Thingvellir National Park,
Bakland að Lágafelli
Apartments in peaceful and magnificent surroundings of the South. We are constantly eliminating and improving the physical obstacles in our housing an
Birds of South Iceland
Birds of South Iceland is a program offering excellent year-round services for birdwatchers. South Iceland has a great deal to offer visiting birdwatc
Björk
Food, gas or shopping. You can find it all here in Björk.
Black Beach Restaurant
The Black Beach restaurant and coffee house is located in one of the most amazing nature highlights of the south, Reynisfjara. In a short walking dist
Black Beach Tours
BLACK BEACH TOURS offers perfect tours in South Iceland where the black volcanic beach meets the blue Atlantic Ocean. ATV/QUAD Tours – Available All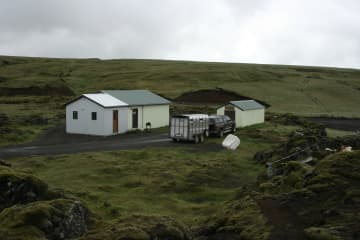 Blágil - Skaftárhreppur
The mountain hut in Blágil is located 15 km south of Lakagígar. The hut has sleeping bag facilities for 18 people. There are kitchen and dining facil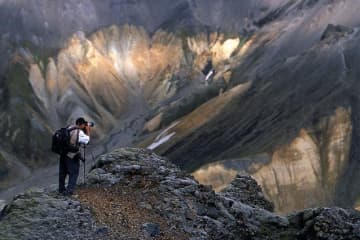 Bláhnúkur in Landmannalaugar
The very most popular mountain in the Landmannalaugar-region to walk on top on. It's a 945 m. above sea-level viewpoint, with a horizontal disc on the
Blue Hotel Vacations
Blue Hotel Fagrilundur is a new 40-room hotel in Reykholt in Biskupstungur.  All rooms have a private bathroom with shower and a refrigerator with a f
Blue View Cabins
Our cabins are located on the Golden Circle in the south of Iceland, near to Geysir, Gullfoss and Þingvellir national park. A great place to stay and
BORG
There is a growing community in Borg in Grímsnes, where there is a wide range of services for locals and tourists, including schools, kindergartens, s
BRAUTARHOLT
A small village. Swimming pool, shop, community center and camp site.
Brautarholt Swimming pool
Skeiðalaug in Brautarholt is a small swimming pool, 12 meters long with one hot tub and sauna. The pool is open most days in the summertime, but usual
Breiðamerkursandur - Fellsfjara
Next to Jökulsárlón is a less-known attraction within Vatnajökull National Park named -Fellsfjara (Eystri-Fellsfjara on the eastern side of the river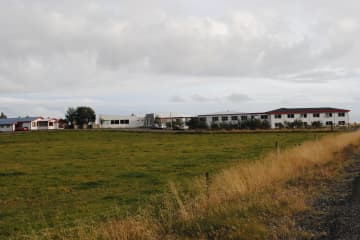 Brunnholl
Brunnhóll is a guesthouse and restaurant enjoying unparallelled views to Vatnajökull National Park.  It is only 6 km from the edge of Fláajökull one o
Brú Guesthouse
With sea views, Brú Guesthouse has accommodation with a kitchenette located in Hólmabæir. Free private parking is available on site. All units include
Brúará
Brúará is fed by springs and discharges at the Rótarsandur Area and the Brúará Canyons. It is a right tributary of the Hvítá. The whole river course i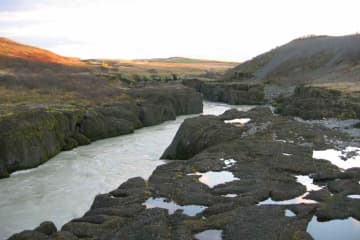 Brúarhlöð
Brúarhlöð is a narrow gorge in the Hvitá River about three kilometers south of the Golden Waterfalls (Gullfoss). The river has formed the rocks into b
Caves of Hella
Twelve man-made caves have been discovered on the land of Ægissíða by Hella on the South Coast of Iceland. Four of them have been open to the public.
Country Hotel Anna
Country hotel Anna, the smallest 3star hotel in the country, bids you the largest welcome. The hotel's charm is displayed in the form of 7 well-appoin
Drangurinn í Drangshlíð
Drangurinn í Drangshlíð is a characteristic tuff rock formation that stands alone on the grazing land of Drangshlíð farm, at the foothills of Eyjafjöl
Dverghamrar
Dverghamrar (Dwarf Rocks), just east of Foss, is a peculiar and beautiful columnar basalt formation. On top of the columns, there is cube-jointed basa
Dynkur in Þjórsá river
Dynkur is a majestic waterfall, about 38 m. High in Þjórsá. The river falls from many pedestals in small waterfalls, forming a single waterfall system
Dyrhólaey
Dyrhólaey is a nature reserve. The protected areas are necessary to ensure protection while ensuring public rights. Some areas are closed for part of
Dyrhólaey Riding Tours
Miđ Hvoll is a humble treasure set amidst the panoramic backdrop of the Mýradsjokull glacial valley. Our seven comfortable holiday cottages are locate
Dælarétt
Dælarétt is a centuries-old sheep pen surrounded by beautiful landscape, built from rocks of the great Þjórsárhraun lava field. Dælarétt is considered
Efra-Hvolshellar caves
The caves in Efra-Hvol (Upper Hvol) have histarically been referred to as "the Irish Caves" which are set into the so-called, "Irish Heath". It was or
Efsti-Dalur II
In Efstidalur you will get a unique and different experience. Right in the middle of the Golden Circle, you get a glance of the farm life in Iceland.
Einbúi, Oddgeirshólar
A beautiful sports and outdoor recreational area on the banks of Hvítá River. The area is owned by the Youth Association Baldur.
Einsi Kaldi
The restaurant Einsi Kaldi is located on the ground floor of Hotel Vestmannaeyjar. The house itself is a historic place, where a lot of establishments
Eldgjá canyon
Eldgjá is an old tectonic graben reactivated in a massive eruption in 934-940. The Eldgjá vents form a discontinuous 75 km long volcanic fissure exten
Eldheimar
The exhibition focuses on the 1973 volcanic eruption in Vestmannaeyjar, without a doubt one of Iceland´s biggest natural disaster. Visitors get a glim
Eldhestar - Volcano Horses
At Eldhestar we have developed our activities since 1986 to combine pleasure, comfort and adventure in a way respecting nature. Our farm is located in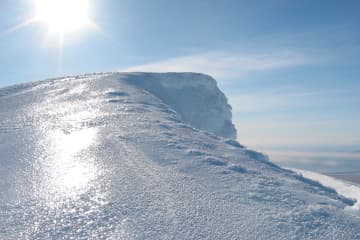 Eyjafjallajökull Glacier
The Eyjafjallajökull glacier is a 1651 m high glacier-capped stratovolcano. It is one of the smaller glaciers of Iceland. It is situated to the north
Eyrarbakkakirkja - church
The church in Eyrarbakki was inaugurated in December of 1890. Before that, the people of Eyrarbakki attended services in the neighboring village of St
EYRARBAKKI
Eyrarbakki, pop. 585 is a friendly village that used to be the largest commercial community and main harbor on the South Coast of Iceland. Many preser
Eyrarbakki Maritime Museum
The Maritime museum in Eyrarbakki offers a unique trip back in time, where you can see numerous items from the time when sailors, living on the south
Eyvindartunga
Set in Laugarvatn in the South Iceland region, Eyvindartunga farm cottage is a lodge featuring a terrace and mountain views. Guests staying at this lo
Fagrifoss Waterfall
Fagrifoss is a scenic 80 m high waterfall in the Geirlandsá River. Basaltic pillows occur in the vicinity of the waterfall, which cascades from 140m t
Farmer´s Guest House
A newly renovated two-story farmhouse with entrance on both 1st floor and in the basement. The second floor consists of 4 bedrooms, each equipped with
Ferjunes
A medieval ferry dock for crossing Þjórsá River. 
Fimmvörðuháls
Fimmvörðuháls is situated in between two glaciers, Eyjafjallajökull and Mýrdalsjökull.The hiking trail over Fimmvörðuháls is one of the most popular o
Fishing in Landmannaafréttur
Many other lakes, apart from Veiðivötn, are located south of Tungnaá, and fishing permits for twelve of them can be bought from the wardens at Landman
Fjaðrárgljúfur canyon
Fjaðrárgljúfur is 6 kilometers from Road 1; take road F206. People can travel by small cars to Fjaðrárgljúfur all year round. Fjaðrárgljúfur is a magn
Fjallabak Nature Reserve
Fjallabak Nature Reserve was protected in 1979. The protection aims to preserve unique areas so that future generations have the opportunity to enjoy
Fjallsárlón Glacial Lagoon
Scenic Fjallsárlón is a glacial lagoon largely within Vatnajökull National Park located around 10 km. west of Jökulsárlón, at the southern edge of Vat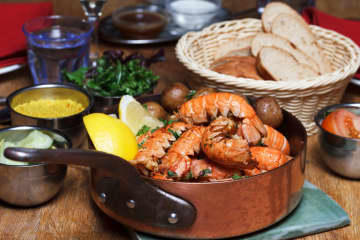 Fjöruborðið restaurant
Fjöruborðið restaurant in the village of Stokkseyri is an enchanted place of delight. People have to tear themselves away from it – but that is all ri
Fláajökull Glacier
Fláajökull is an outlet glacier from Vatnajökull. The area offers spectacular views of the ever-receding glacier that has receded 2 km during the last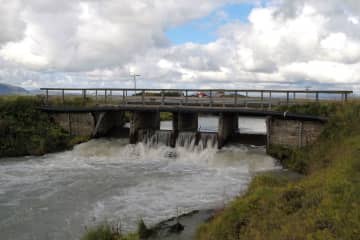 Flóaáveita - canals
Flóaáveitan are canals that run through the entire Flói region, from Ölfusá in the west to Þjórsá River in the east. This monumental construction cons
FLÓAHREPPUR
Flóahreppur is a peaceful municipality situated in South Iceland, between the two large Salmon Rivers Hvítá and Þjórsá. Flóahreppur is famous for its
Flúðasveppir Farmers Bistro
 WE SERVE WHAT WE GROW   Flúðasveppir is the only mushroom farm in Iceland, located in Flúðir only 2km from the secret lagoon and in the middle of the
FLÚÐIR
Flúðir is a rapidly growing community in the center of the Hrunamannahreppur district, about 25 minutes off the main Ring Road. The area is considered
Flúðir Golf Club
At the golf course, Selsvöllur (18 holes), you can play golf from the beginning of May until October.   Golf clubs and golf carts are available for re
Foss á Síðu
Foss á Síðu is the name of an old farm, approximately 10 km east of Kirkjubæjarklaustur. A beautiful waterfall cascades over the cliffs above the farm
Fossabrekkur
The uppermost falls in the Ytri-Rangá river are called Fossabrekkur. The falls are just below the western source of the river just after entering the
Fosshotel Glacier Lagoon
Spectacular surroundings and natural wonders Fosshotel Glacier Lagoon is a beautiful hotel situated in Hnappavellir, a popular climbing area. The loca
Fosshotel Hekla
Fosshotel Hekla is a great located hotel in South Iceland. It offers an easy reach to some of Icelands's most stunning sights such as Eyjafjallajökull
Fosshotel Nupar
Panoramic views of Vatnajökull's lava fields Fosshotel Núpar is a comfortable and perfectly located hotel in one of the most panoramic landscapes in I
Fosshotel Vatnajökull
Panoramic view of Vatnajökull glacier Fosshotel Vatnajökull is a charismatic and attractive hotel in the southeast of Iceland with a spectacular panor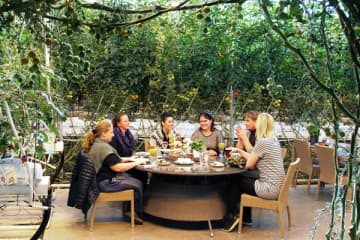 Friðheimar
Food Experience In Friðheimar we create a pleasant Food Experience for our guests where lunch is enjoyed among the tomato plants, as the restaurant is
From Coast To Mountains
We are a local family company that has been running trips in southeast Iceland since 1991. Our Summer Special is the popular Ingólfshöfði Puffin Tour.
Frostastaðavatn
Lake Frostastaðavatn rests in breathtaking nature and is surrounded by black lava fields and colorful rhyolite mountains. It covers around 2,5km2 and
Gallery Flói
Gallery Flói is an artisan-run studio and store where the local artisan Fanndís works with glass, melts and forms it over a open flame into glass bead
Gamla fjósið
Gamla fjósið or the Old Cowhouse is a family restaurant located on the farm Hvassafell in south Iceland, just beneath the magnificent mountain Steinaf
Gaulverjabær church
Gaulverjabær has been a church site and manor since early settlement. Loftur Gamli from Norway was Gaulverjabær's first settler and named the place af
GeoCamp Iceland
GeoCamp Iceland is an educational institution and tour operator, established in 2006, with the objective to increase knowledge and understanding in Ea
Gerði Guesthouse
Accomodation close to Glacier Lagoon If you want to enjoy the Glacier Lagoon Breidamerkurlon, the National Park Skaftafell and a trip to the top of Va
Geysir Geothermal area
One of the greatest natural attractions of Iceland and part of the famous "Golden Circle Tour," The Great Geysir, or Stori-Geysir, has been dormant si
Geysir Restaurant
We emphasize that our guests enjoy excellent experience in food and drink. To dine in a nice environment is an important factor in a good journey. The
Giljagisting
Giljaland Cottages Well equipped self catering family owned cottages ideally located in Central South Iceland, with beautiful countryside view and wit
Gjáin in Þjórsárdalur valley
This beautiful natural phenomenon and oasis at the edge of the central highlands should not be passed by if you are traveling in the Thjorsar Valley.
Glacier Adventure
GLACIER ADVENTUREGlacier Adventure is a small family-run local company. Guiding is our passion and our life revolves around Europe's largest glacier,
Glacier Journey
The company is based at Víkurbraut 4 Höfn, approx. 79 km east of Glacier Lagoon- Jökulsárlón, owned and run by the couple Laufey and Gulli. Glacier Jo
Glacier Lagoon Boat Tours
Jökulsárlón is a natural wonder with huge iceblocks floating on the lagoon right by highway 1, the Ring Road! You can take a 30-40 minutes guided boat
GlacierWorld
Glacier World offers a beautiful guesthouse and geothermal baths in a beautiful area enveloped by mountains and glaciers. A visit to the geothermal ba
Gljúfrabúi
The waterfall Gljúfrabúi tumbles down from the Gljúfurá River. Its source is north of Tröllagil (Troll Gorge) Canyon in the heath Hamragarðaheiði. It
Gluggafoss waterfall
The Merkjá River has several beautiful waterfalls, but the most outstanding is Gluggafoss or Window Falls(also known as Merkjárfoss). The upper half o
Grimsborgir Restaurant
Hótel Grímsborgir has a very nice restaurant with a broad a la carte menu with both Icelandic and international dishes. The restaurant seats 200 guest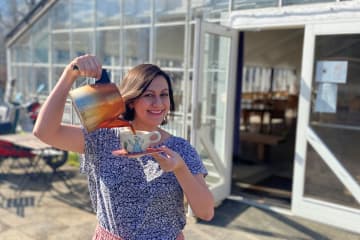 Græna kannan Organic Café
Græna kannan and Vala art exhibition Our store Vala offers all the Solheimar's products, handmade art, vegetables, candles, etc. In our coffee shop Gr
Guesthouse Kvöldstjarnan
The Guesthouse Kvöldstjarnan stands on the rim of the great Þjórsá lava, which the Atlantic Ocean has molded into a shore renowned for its beauty.  It
Guesthouse Lambastaðir
Guesthouse Lambastadir is located 7 miles east of Selfoss on Highway 1, one hour away from the capital, Reykjavik. There are eleven rooms in the guest
Guesthouse Saga
At Syðra-Langholt we run a guesthouse, a camping site and a horse rental. The surrounding nature is beautiful and close to many "must-see" places, lik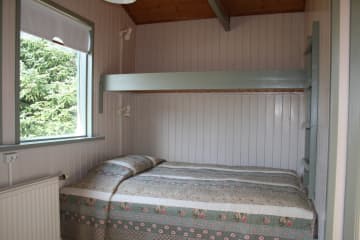 Guesthouse Selfoss
Bungalows and summerhouses Gesthús Selfossi offers 22 rooms in wooden bungalows, all with private facilities and kitchenette. It´s the perfect choice
Guide to Iceland
Uniting over 1500 Icelandic travel operators in a single community, Guide to Iceland remains the world's largest collaboration for Icelandic travel se
Gullfoss waterfall
Gullfoss is two separate waterfalls; the upper one has a drop of 11 meters and the lower one 21 meters. The rock of the river bed was formed during an
Hafnleysa Maritime Museum
Vík is a sea-side village with a rich maritime history like the majority of Icelandic towns. However, what sets it apart is the fact that it has never
Hafursey
Hafursey is an exceptionally beautiful palagonite mountain situated on the north side of Mýrdalssandur. It is divided by Klofgil Gorge- the west side,
Hali
Hali Country Hotel in South East Iceland offers comfortable accommodation at a reasonable price. Hali is a well known cultural place as one of Iceland
Hallskot - Recreation Forest
A recreation area north of Eyrarbakki in supervision of the forestry community of Eyrarbakki, Skógræktarfélag Eyrarbakka. In Hallskot is a perfect pic
Handverksskúrinn
On June 1, 2010, twelve women from South–Iceland joined together and founded this handcraft- organization. Today the group consists of 8 women and we
Haukadalsskógur Forest
Haukadalsskógur forest is the most highly cultivated of the national forests in Iceland and one of the biggest national forests in South-Iceland. A gr
Haukafell
Haukafell is a forestry project that was launched in 1985 and now offers ample shelter to the low-lying, local vegetation, which mostly consists of be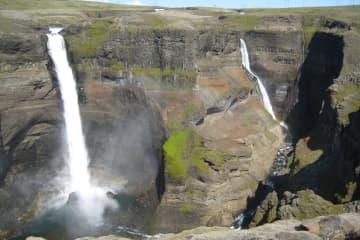 Háifoss Waterfall
The waterfall Háifoss is situated near the volcano Hekla in the south of Iceland. The river Fossá, a tributary of Þjórsá, drops here from a height of
Heinaberg
Heinaberg is a beautiful area that consists of Heinabergsjökull glacier, the glacial lagoon Heinabergslón, where you can go kayaking among the iceberg
Hekla volcano
The volcano Mt. Hekla is Iceland's most famous volcano and the one that has erupted most frequently in recent years. Mt. Hekla rises 1,491 m over sea
Hekluhestar Riding Tours
Hekluhestar - Riding tours since 1981 Austvaðsholtfarm, the heart of Hekluhestar, is located 12 km from Hella, in a vast open area 100 km. east of Rey
HELLA
Inhabitants in Rangárþing ytra (Westen Rangárþing) are 1526 (the year 2016). The borders of the district are by Ásahreppur district, from the river Þj
Hella
Hella is the municipality's main population centre, with over 800 residents. The economy of Hella consists mainly of services to the agricultural sect
Hella Swimming pool
The thermal pool in Hella is 25 x 11 meters and and suitable for competitions. 5 different pools are available next to the main swimming pool: 1 massa
Hellarnir að Hellum
At Hellar, there are three caves from which the town gets its name. These caves are man-made, carved in sandstone, and one of them is the longest man-
Hellishólar Travel Service
Hellishólar offers a 18 hole golf course with the rivers Þverá and Grjótá running through it. Surrounded by breathtaking nature, the golf course is bo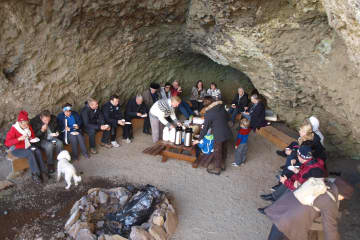 Hellisskógur forest
Hellisskógur is a small forest just outside of the town of Selfoss. In Hellisskógur are roads, walking paths around the area, and benches so visitors
Herríðarhóll Reittouren
Herríðarhóll is a successful horsebreedingfarm and very well located in the south. We offer shorter and longer horseback rides, both for beginners and
Hespa
Hespuhúsið is an open plant dyeing studio where guests are welcome to visit the studio, look into the dye-pots and get information about the old color
Hestheimar
Set on an Icelandic horse farm 13 km from Hella town centre, this family-run property is 3 km off Iceland's Ring Road. It offers views of the Hekla an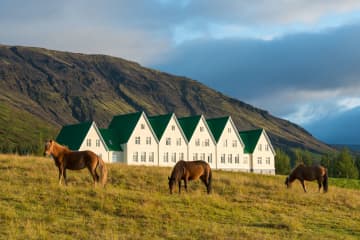 Héraðsskólinn Historic Guesthouse
Staying a night should be more than just a place to stay. That's why we at Héraðsskólinn Historic Guesthouse believe in more than just a room. With us
Hjarðarból Guesthouse
Set in peaceful surroundings, this guesthouse has views of Ingólfsfjall mountain. It offers free Wi-Fi in public areas and free on-site parking. Selfo
Hjálparfoss Waterfall
Hjálparfoss is a beautiful, two-stepped waterfall near the confluence of Rivers Thjorsa and Fossa in the Thjorsa Valley. The surrounding area is calle
Hjörleifshöfði
Hjörleifshöfði is a 220-meter tuya cliff. Tuya is a distinctive, flat-topped, steep-sided volcano formed when lava erupts through thick glaciers or ic
Hlöðueldhúsið - The Barn Kitchen
Culinary and Joyful experience at the Barn Kitchen with a group of friends or colleagues. We cook together from Icelandic ingredients straight from th
Hoffell
Hoffell is a farmland area characterized by a large outlet glacier named Hoffellsjökull and gabbro rock. Gabbro rock originated deep in the earth but
Hornafjörður Cultural Center
The cultural center has six museums as well as a research department that operates across the units. The museums are regional, maritime, natural histo
Hornafjörður Golf Club
Golf course name: Silfurnesvöllur The number of holes: 9 Par: 70
Hotel Eldhestar
Hotel Eldhestar is a cozy country hotel with a luxurious, comfortable atmosphere, located in the heart of Iceland´s south-western countryside, only 45
Hotel Fluðir
Hotel Fludir is an ideal stop-off point in South Iceland for hiking and exploring. Let alone if you are on your way to experience Iceland's most breat
Hotel Geysir
The trademark of Iceland, the great Geysir, gave the hotel its name and Geysir is situated right outside the front door of the hotel. Haukadalur is on
Hotel Glacier
Hótel Jökull is a family-run hotel, located in the vicinity of Vatnajökull, Europe's largest glacier. The scenery around the hotel is spectacular and
Hotel Grímsborgir - Your luxury retreat in the Golden Circle
Hotel Grimsborgir is a luxury 5 star hotel located 70 km east of Reykjavik in the heart of the Golden Circle, nestled on the bank of river Sogid surro
Hotel Klaustur
Hotel Klaustur is ideally located for trips to the biggest glacier in Europe – Vatnajökull, Laki Craters and Skaftafell National Park, as well as the
Hotel Laugarvatn
Perfect location, right at the Golden Circle, a well equipped and spacious Hotel. Hotel Laugarvatn offers comfortable accommodation at a reasonable p
Hotel Lækur
Hotel Lækur is a small and cozy family-run country hotel in a beautiful location in south Iceland. The location is central for all main attractions in
Hotel Ranga
Hotel Rangá, Southern Iceland´s idyllic countryside retreat, is the ideal location for adventuring through the country´s myriad of natural wonders, fr
Hotel Skaftafell
Hotel Skaftafell is a comfortable 3 star tourist class hotel and invites you to one of the most wonderful and panoramic locations in all Iceland. The
Hotel Skálholt
Hótel Skálholt is a house of culture that offers accommodation, a restaurant and a variety of events such as concerts, stand up, book presentations an
Hotel South Coast
Hotel South Coast is a newly opened hotel located next to the new downtown area of Selfoss which offers a plethora of restaurants and shops.   Hotel S
Hotel Vatnsholt
Vatnsholt is a beautiful farmstead that has recently been completely renovated. The view from Vatnsholt is one of the most expansive in all of Iceland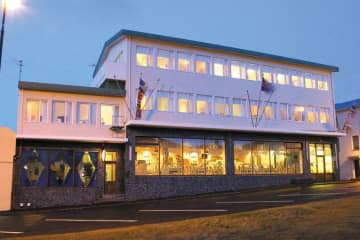 Hotel Vestmannaeyjar
Hótel Vestmannaeyjar allows guests to explore the Westman island's breath-taking scenery while providing comfortable and relaxing accommodation The ho
Hotel Vík í Mýrdal
In an impeccable South Iceland hotel location, with striking views of the cliffs, the sea and the Reynisdrangar rock pillars, Hotel Vík í Mýrdal has p
Hotel VOS
Hotel VOS is a small and cozy country hotel located at Norður-Nýibær farm in Þykkvibær, about 10 minutes from Hella. Breakfast is included, and dinner
Hotel Örk
Hotel Örk is a four-star hotel located in Hveragerði, the hot spring capital of Iceland. Hotel Örk offers spacious 157 rooms, including 8 junior suite
Hólaskjól-Higlandcenter
Hólaskjól is located on the highland route, Fjallabaksleið Nyrðri, about 35 km. from the main # 1 road.  You pass through the Skaftártunga area, road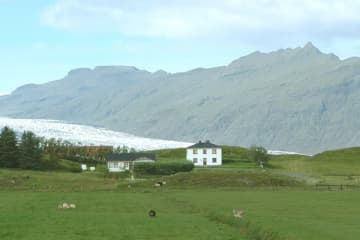 Hólmur Travel Service
Hólmur offers accomodation in an old farmhouse, renovated in 1960-70 style, with 6 double bedrooms and 2 shared bathrooms.  Good cooking facilities (o
Hótel Höfn
Hótel Höfn was founded in the year 1966 and is one of the better established hotels in the country. It is located in the centre of  town Höfn and has
Hótel Kría
Hotel Kría is a new hotel opened during the summer of 2018 in the charming town of Vík in Mýrdalur Valley. The Hotel features beautifully decorated ro
Hótel Laki
Hotel Laki is a family run business located five kilometres south of Kirkjubaejarklaustur, only a three hours drive from Reykjavik. It is surrounded b
Hrafntinnusker
Hrafntinnusker in Torfajökull glacier is a place you must visit. The English name of this 1128 m high mountain is The Obsidian Skerry. It is situated
Hraungerdi church
Hraungerði is a church manor and former assembly site. The land once belonged to Hróðgerður the Wise, one of the first settlers and progenitor of the
Hungurfit in Rangárvallaafréttur
There have been lodge facilities in Hungurfit since 1963, when a mountain lodge, housing 20 people, was built there. This was a great improvement for
Hunkubakkar
Hunkubakkar Guesthouse has to offer 20 rooms in total. There are six rooms with shared facilities, six bigger cottages for 3 and 4 persons and eight d
Hvalnes
Hvalnes is a small peninsula with a black pebble beach stretching for a few kilometers. Sitting on its tip is a picturesque old, yellow lighthouse and
HVER Restaurant
HVER Restaurant is a first-class restaurant with a la carte menu as well as a group menu. HVER Restaurant is located in hotel Örk in the village Hvera
HVERAGERÐI
Hveragerði has long been a famous destination for tourists with many hotels and restaurants. Both summer and winter, Icelanders and foreigners alike h
HVOLSVÖLLUR
Hvolsvöllur – Rangárþing eystra, with a population of about 2000, is a vast district in central South Iceland and ranges from the highlands to the sea
Hvolsvöllur Swimming Pool
For opening hours see website.
Hvönn Restaurant
Hvönn Restaurant in Skálholt is open from 11:30-21:00 and is a great place to stop for a meal on your Golden Circle tour. Hvönn means Angelica, which
Höfðabrekkuheiði, Þakgil
A breathtaking 16 km drive from the ring road no. 1 to Þakgil campsite and hiking area. Surrounded by black sand and glacial rivers a gravel road cros
HÖFN
Hornafjörður is a blooming community close to the biggest glacier in Europe, Vatnajökull in the south eastern part of Iceland. The district's most den
Höfn - Eagle Air
  Eagle Air is an Airline operating Scheduled flight to five destinations and variety of Day Tours and Air Tours in Iceland. Eagle Air offers the trav
Höfn – Local Guide
  Experience the here and now  Höfn Local Guide is a locally-owned family business in Höfn in Hornafjörður that operates in the field of Slow-Adventur
Höfn Swimming Pool
The swimming pool in Höfn is a 25 meter family friendly outdoor pool that was opened in 2009. There is good accessibility for the disabled and a shelt
Ice Adventure / Glacier Jeeps
Since 1994 we have offered exciting super jeep and snowmobile tours on Europe´s largest glacier, Vatnajökull. We pick you up from Vagnsstaðir and star
Ice Guardians Iceland
We are an adventure guiding company founded by two internationally experienced & knowledgeable guides. We operate activities in & around our backyard
Icebike adventures
Exploring Iceland nature on a bike is a unique experience. Our trips are unparalleled, melding the very best Icelandic single tracks and backroads wit
Iceguide
IceGuide is a family run company, owned by Óskar Arason who is the company's tour guide, and his wife & Manager, Íris Heiður Jóhannsdóttir. Óskar is b
Iceland / Promote Iceland / Visit Iceland
Promote Iceland is a public-private partnership established to market Iceland´s commercial interests abroad and to increase the country´s export reven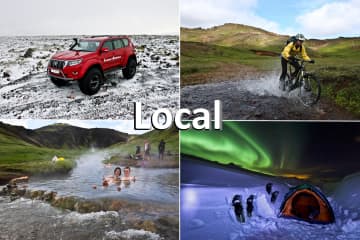 Iceland Activities
"Written by Úlfar, son of the family" When it comes down to choose a travel operator/company or just how to spend your day in Iceland, then there are
Iceland Bike Farm
We are a small, family run, locally based adventure tour company. We specialize in mountain biking, located in the mountain biking paradise of Kirkjub
Icelandic HorseWorld
We welcome you to the horse breeding farm Skeiðvellir. If you want to get to know the Icelandic horse while traveling in Iceland you have come to the
Icelandic Lava Show
Icelandic Lava Show is the first and only live lava show in the world. The show is located at Víkurbraut 5 in the beautiful village of Vík on the Sout
Icelandic Mountain Guides
Arcanum Glacier tours Conveniently situated in south Iceland at the foot of Mýrdalsjökull glacier, the tour company Arcanum is one of Iceland's best k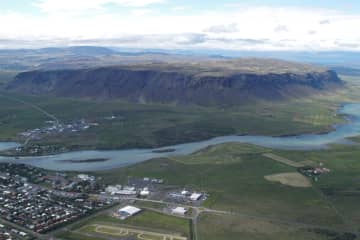 Ingólfsfjall mountain
Ingólfsfjall mountain in Ölfus is 551m. Ingólfsfjall is fenced with cliffs in three ways and is very steep. When the sea level was highest at the end
Ingólfshöfði
At the edge of the Atlantic Ocean, Ingólfshöfði is a headland isolated by black sands and perilous rivers from the rest of the mainland.  This histori
Ingólfsskáli - Viking Restaurant
In South Iceland, tucked under the towering Ingólfsfjall mountain, lies Ingólfsskáli Viking Restaurant. It's a place where heritage and tradition come
Into the Wild
Into The Wild Into The Wild offers first class, tailor-made Super-Jeep adventure tours. Would you like to take a walk through an underground river or
Jökulsárlón Glacier lagoon
Jökulsárlón is a glacial lagoon by the ring road and was recently designated as a part of Vatnajökull National Park. It's still blue waters are a sigh
Kambur
A notorious robbery, called Kambsrán, was committed at this spot in 1827. Four men broke into the farm at night, tied up the farmer Hjörtur Jónsson as
Katla Geopark
Katla Geopark Katla Geopark includes geological features of global significance. Over 150 volcanic eruptions have been recorded in the area since the
Katla UNESCO Global Geopark
Katla Geopark includes geological features of global significance. Over 150 volcanic eruptions have been recorded in the area since the 9th century. T
Katla Visitor Center
 In the old heart of Vík, you will find the historical Brydebúð building, housing Katla Visitor Center.  Encounter the geology of Katla UNESCO Global
Katlatrack
Katlatrack was estabilished in the spring of 2009 with the goal of providing diverse forms of recreation in the south of Iceland. The founder of Katla
Kayak Tours Stokkseyri
School groups. ½ hour (paddle) assistant on the lakeside, paddle free on a specific area in Löngudæl. Great for school groups some just want to feel f
Keldur, Rangárvellir
The oldest existing farmhouse in Iceland is located at Keldur. It stands as a testament to the past, being the sole remaining farmhouse of its kind, k
Kerið Crater
Kerið is a 55 m deep volcanic crater, about 3000 years old. It is a part of a group of volcanic hills called Tjarnarhólar and is now filled with water
Kerlingarfjöll Highland Resort
Kerlingarfjöll are one of the natural pearls of Iceland, located in the highlands, between the Glaciers Hofsjökull and Langjökull. The area is accessi
Kerlingarfjöll Mountains
The mountain massif Kerlingarfjöll (The Giantess Mountains; 800 - 1500 m) is the main ornament in the chain of mountains and glaciers framing the Kjöl
KIRKJUBÆJARKLAUSTUR
SkaftárhreppurSkaftárhreppur district is the center of the south of Iceland and the perfect location to stay while taking day tours to see many of Ice
Kirkjubæjarklaustur Swimming Pool
Where you can watch the Waterfall from the Hot Tube ! The sports center at Kirkjubæjarklaustur is in the middle of the village . The Sports Center has
Kirkjubæjarstofa
Exhibition and study centre on the nature, history and culture of the region.
Kirkjugólf
Kirkjugólf, or 'the church floor,' is an 80 square meter expanse of columnar basalt stone slabs that slowly eroded when the sea covered the area. The
Knarrarósviti Lighthouse
Built-in 1938-1939, the lighthouse was the first one in Iceland to be built out of reinforced concrete. For a long time, the lighthouse was the talles
Kolsgarður
Kolsgarður is a path made from turf believed to be from the 10th century. Kolur from Kolsholt made this path so he could meet a woman called Ragnheiðu
Kvernufoss waterfall
Is in a small canyon 1.5 km to the east of Skógafoss. A hiking path leads up to it from the car park of the museum at Skógar. We recommend checking ou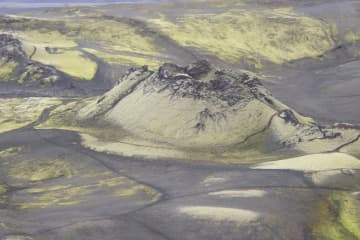 Lakagígar and Laki
Lakagígar is a row of craters formed in one of the world's largest mixed eruptions in recorded history. This continuous series of eruptions emitted a
Lambhús Cabins
Lambhus Cabins Enjoy the amazing views of Vatnajökull Glacier in your own private cabin. The cabins have sleeps for up to 4 guests, ideal for couples
Landbrotshólar
In Landbrot, right next to Kirkjubæjarklaustur, are Landbrotshólar, many clusters of pseudocraters, formed in the Eldgjá eruption in 934 to 940 when l
Landhotel
Welcome to the beautiful luxury hotel, Landhotel, nestled in the peaceful surroundings of a picturesque mountain range in South Iceland. As you approa
Landmannahellir
Landmannahellir in Landmannaafréttur has long been a destination point for travellers passing through the area. The name of the place is drawn from a
Landmannalaugar - Nature Reserve
Landmannalaugar derives its name from a hot pool that rises under the Laugahraun lava field. Landmannalaugar has been a stopping point for people for
Landscape Photography iceland
Photography tours and Workshops in Iceland for small groups. Your guide, Páll Jökull is an Icelandic Professional Landscape Photographer and has been
Langisjór Lake, Fögrufjöll, Grænifjallgarður
Langisjór is a lake within Vatnajökull National Park that's 20 km long and 2 km wide in some places. The lake is to the southwest of Vatnajökull, betw
Langjökull Glacier
Langjökull is the country's second-largest glacier. Its accessibility is as good as it gets; however, no one should attempt driving up a glacier on th
Laufskálavarða
Laufskálavarða is a lava ridge surrounded by stone cairns between the Hólmsá and Skálmá rivers, close to the road north of Álftaver. For the first tim
Laugaland
For opening hours see website.
LAUGARÁS
The development of the small village Laugarás started when geothermal activity was discovered in the area. There are numerous horticultural farms in t
Laugardælir
Laugardælir is a small hamlet near the town of Selfoss. Laugardælir was one of Iceland's busiest ferry sites until a bridge was built across Ölfusá in
LAUGARVATN
Laugarvatn is a shallow lake, about 2 km2 in size, and is located in the inlands of Árnessýsla, midway between Þingvellir, Gullfoss and Geysir, 100 km
Laugarvatn Adventure
Laugarvatn Adventure offers exciting caving tours all year round with guaranteed departurs every day from June to August. We are based in Laugarvatn,
Laugarvatn Fontana
Laugarvatn Fontana is the place for relaxation and an authentic Icelandic experience. Soak in the warm geothermal pools and get energized in the natur
Laugarvatn Swimming Pool
The pool is 25 m long, with three hot tubs, one cold tub and a suna.  Opening hours: Summer:Mondays - Thursdays: 10:00 – 21:00Fridays - Sundays: 10:00
LAVA centre
LAVA "Iceland Volcano & Earthquake Center" reveals the epic forces of nature that shaped our planet and created Iceland only 20 million years ago. LAV
LÁ ART MUSEUM
LÁ Art Museum (Listasafn Árnesinga) welcomes you. It runs ambitious and various shows of contemporary as well as modern art in its four spacious exhib
Lilja Guesthouse
LILJA Guesthouse is located in Hornafjordur, in the South East region of Iceland where Vatnajokull, Europe's largest glacier, plays the major role in
Lindin Restaurant
Restaurant Lindin is located at Laugarvatn, which is around 100 km from Reykjavik, placed midways between Þingvellir and Gullfoss - in the hart of the
Litli Geysir Hotel
The Hotel is right opposite the world famous Geysir hot spring and is surrounded by beautiful nature. It has 22 rooms with view over the Geysir area a
Ljótipollur
Ljótipollur is an explosion crater in the Nature Reserve of Fjallabak and is part of the Veiðivötn volcanic fissure system. It was formed in historica
Local Guide - of Vatnajökull
Local Guide of Vatnajökull is a small family run company in the South East of Iceland offering small and intimate glacier trips on the Vatnajökull gla
Local Travel, South Iceland
Local Travel is a day tour and event service company founded by the couple Addi and Magga, who decided to share their passion for their local heritage
Loftsstaðir
Loftstaðir is a medieval fishing station. A great sorcerer called Galdra-Ögmundur lived there around 1600. On a hill nearby, called Loftstaðahóll, is
Lómagnúpur
Lómagnúpur is a 688 high palisade of cliffs that towers over Björninn Mountain, west of the Núpsvötn Lakes in Skeiðarársandur. The surroundings are re
Lónsöræfi
In Lón District, the most eastern area of the Vatnajökull Region, lie the Stafafellsfjöll mountains, also called Lónsöræfi. They dominate the skyline
Megazipline Iceland
Mega Zipline Iceland is a thrilling ride in stunning nature! Mega Zipline lets visitors fly for a kilometer from a top the Kambar plateau overlooking
Menam Thai Food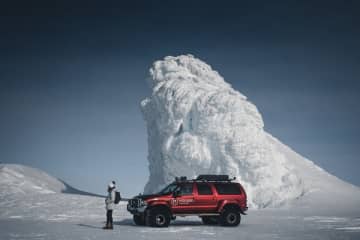 Midgard Adventure
Midgard Adventure Midgard Adventure is a Tour Operator & Travel Agency that delivers authentic experiences with local,highly experienced guides. We of
Midgard Base Camp
Located in the heart of South Iceland, Midgard is the centre for authentic adventure travel. Midgard Base Camp offers unique accommodation with an exc
Midgard Restaurant
Midgard Restaurant, which is situated in the small town of Hvolsvöllur,  offers "FEEL GOOD FOOD" that enriches the mind and body. It serves food based
Mið-Hvoll Cottages
We have for rent seven cozy cottages with everything you need for a pleasant stay in a peaceful area. The location is perfect for those who want to sp
Miðdalskot Cottages
At farm Miðdalskot we offer 5 apartments for rent. Our apartments are fully equipped with a kitchen, bathroom, and barbeque. Each apartment has two be
Milk Factory - guesthouse
Recently renovated, Milk factory guesthouse offers you the choice of 17 comfortable, stylish rooms.   The Milk factory is an attractive guesthouse in
Mountaineers of Iceland
Founded by Herbert Hauksson in 1996, Mountaineers of Iceland is the oldest snowmobile tour operator in the country, with over one hundred snowmobiles
Mr.Iceland
Horseback ride and dinner with a Viking! Efri-Úlfsstaðir, our farm, is located right in the center of our greatest Saga: BrennuNjáls Saga. Arriving a
Mýrdalsjökull glacier and Katla
Mýrdalsjökull Glacier and Katla VolcanoMýrdalsjökull is a glacier located in the south of Iceland. It is situated to the north of Vík í Mýrdal and the
Nordic Green Travel
Experience the best of Iceland with Nordic Green Travel, a premier travel agency based in Iceland. We specialize in self-drive package tours and priva
Norðurflug Helicopter Tours
We can show you nature like you have never experienced it before!   Nordurflug Helicopter Tours is the biggest and oldest helicopter company in Icelan
Oddi church
Oddi at Rangárvellir is a historic church site, farm and vicarage. In earlier times, Oddi was one of the most important seats of chieftains and educat
ON Geothermal Exhibition at Hellisheiðarvirkjun
ON Power operates two geothermal power stations, in Hellisheiði and Nesjavellir, and one hydro power station in Andakíll. Which are the largest and th
Ófærufoss waterfall - Nyrðri Ófæra river
Ófærufoss is an extremely beautiful waterfall in the river Nyrðri-Ófæra and falls into Eldgjá in two cascades. There used to be a stone arch across th
Ósland
Ósland is an island accessible by a manmade isthmus (land bridge) and is situated just a few steps from the harbor area. Ósland was once an island but
Pakkhus restaurant
Pakkhús is a restaurant overlooking the harbour in Höfn í Hornafjörður, southeast Iceland and just beside the new information centre in town. The menu
POWERING THE FUTURE
Landsvirkjun's energy exhibition is located in Ljósafoss Power Station and is about a 50-minute drive from Reykjavík.  The exhibition is interactive w
Prestsbakkakirkja á Síðu
Prestsbakki has been an ecclesiastical site since 1859 when church activities at Kirkjubæjarklaustur ceased. The Rev. Jón Steingrímsson (1728-91), kno
Rauða Húsið Restaurant
A great beginning or memorable end to your Golden Circle or South Coast trip, or a destination in itself. Some of the country's best seafood, steaks,
Reverend Jón Steingrímsson chapel
The chapel at Kirkjubæjarklaustur was consecrated in 1974. It was built in the memory of reverend Jón Steingrímsson, fire cleric (1728-1791). He said
REYKHOLT
The development of the small village Reykholt started in the first half of the 20th century, when geothermal activity was discovered in the area. Ther
Reykholt Sports Centre
The Reykholt Sports Centre consists of a swimming pool, a water slide, two hot tubs, one cold tub, a gym and a sports hall.  Opening hours:Summer Mond
Reykjadalur Guesthouse
Reykjadalur Guesthouse is a friendly guesthouse with a fantastic location at the heart of Hveragerði which is only within an hour's drive from Reykjav
Reynisfjara, Reynisfjall og Reynisdrangar
Reynisfjall is a 340 m high tuff mountain arising out of a volcanic eruption from under a glacier in the penultimate Ice Age, near the village of Vik.
Ribsafari
Have a Blast in Westman Islands: Ribsafari offers fun and exciting entertainment in Westman Islands (Vestmannaeyjar). Sailing around the islands in a
Riding Tours South Iceland
Riding Tours South Iceland is a family company. Our goal is to meet the needs of every customer as best we can with personal service. We are located i
Rjúpnavellir
Rjúpnavellir in Rangárþing Ytra is a small and comfortable resort in south of Iceland. It is located only 9 km from the famous volcano - Hekla, about
Rútshellir
Rútshellir in mount Hrútafell is a protected cave with a newly renovated sheep pen attached in front of it. Said to be the largest man-made cave in Ic
Rútsstaða-Suðurkot
The birthplace of the great Icelandic artist and painter Ásgrímur Jónsson (1876-1956). He was a pioneer of Icelandic visual art and the first Icelande
Sagnheimar Folk Museum
Sagnheimar, folk museumSagnheimar, folk museum, opened a completely new exhibition in May 2011. The aim of the new exhibition is to let visitors of al
SEA LIFE Trust Beluga Whale Sanctuary
Visit the world's first beluga whale sanctuary and learn more about its first residents; Little White and Little Grey. Explore the Visitor Centre, ho
Secret Iceland
Secret Iceland is licensed day tour provider authorized by the Icelandic tourist board since 2010.  Founders of Secret Iceland are the brothers Traust
Secret Local Adventures
Secret local adventures is a family-owned business and was founded in 2016 and we are located 5 km. (about 3 miles) from the small town Flúðir. The co
Self guided walk in Hella
The archaeology app takes you on a self-guided tour of the village of Hella.  Hella does not have a very long history, but there has been a farm, Gadd
SELFOSS
Selfoss, pop. 8.832 is the largest town in South Iceland and the main center of trade and industry. The distance from the capital is 57 km, and variou
Selfoss Area Information Office
The Selfoss Information Office is located in Árborg's town hall, Austurvegi 2. The information center serves residents and tourists all year round. Fr
Selfoss Center
Some towns are old, and some are new. But in Selfoss, the past connects with the present in a truly unique way. We look forward by looking back.  35 h
Selfoss Swimming Pool
The Selfoss Public Swimming pool is in the center of town and within walking distance from all major shops and services as well as having ample parkin
Selfoss Town Tours
Selfoss Town Tours is a new tour company located in the town of Selfoss. We specialize in history- and food tours around our town with an experienced
Selfosskirkja - church
Selfoss Church was built from 1952 to 1956 and consecrated on Palm Sunday, 25 March 1956. It was designed by the headmaster of the Technical College i
Seljalandsfoss waterfall
A unique waterfall in the river Seljalandsá, about 30 km west of Skógar: it is 60 meters high with a footpath behind it at the bottom of the cliff, bu
Seljaveitingar
After a walk behind the iconic Seljalandsfoss waterfall, visitors can take a moment to digest the experience by the Seljalandsfoss Shop. It is owned b
Selvogsviti Lighthouse
Selvogsviti was built in 1919 and rebuilt in 1931. The light height is 20 meters above sea level. In 1919, a 15-meter high iron frame was built on Sel
Sesseljuhús Environmental Center
Sesseljuhús Environmental Center provides an educational experience focusing on sustainable building and environmental exhibitions. Education programs
Skaftafell
Scenic nature, favorable weather conditions, and a network of hiking trails make Skaftafell in Vatnajökull National Park an ideal destination to enjoy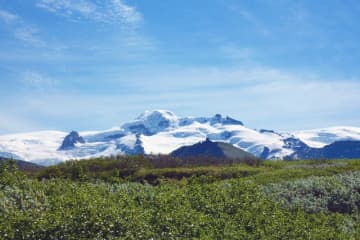 Skaftafell Visitor Centre, Skaftafell
Skaftafellsstofa is an information and education centre where visitors can find answers to their questions about the Skaftafell area, along with infor
Skaftáreldahraun lava field
In 1783, a huge lava flow streamed from Lakagígar in what became known as  the "Skaftá Fires." This is believed to have been one of the greatest lava
Skaftárstofa Visitor Centre, Kirkjubæjarklaustur
In Kirkjubæjarklaustur the Tourist Information Office is situated in Skaftárstofa, on your left hand as you drive through the village. At Skaftárstofa
Skagaás grove
Skagás is a beautiful grove in serene surroundings. It's easily accessible and open for everyone but please take care not to leave any litter behind.
Skalholt Cathedral
Skálholt is one of Iceland's most historical places and the capital of Iceland for over 700 years. It was the scene of the most dramatic events which
Skálafell – Hjallanes
Skálafell is situated in the exact middle between the glacial lagoon Jökulsárlón and the town of Höfn in Hornafjörður. Skálafell offers access to beau
Skálatjörn guesthouse
Welcome to Skalatjörn Guesthouse Experience the real Icelandic countryside with Skálatjörn, a little family hotel located on a serene and quiet goat f
Skálholt Church
Situated in the lower part of the Biskupstungur valley between the rivers Hvítá and Brúará, Skálholt is one of Iceland's places of special historical
Skeiðarársandur
Skeiðarársandur is a large area of black sands, reaching from Skeiðarárjökull (a part of Vatnajökull) and to the sea. It covers an area of 1300 km² an
Skogar church
Skógar was a church site from shortly after the adoption of Christianity in Iceland around 1000 AD; the first church was built in about 1100 and dedic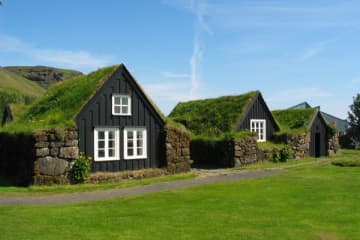 Skogar Museum
Skógar Museum was founded in 1949 and nowadays hosts a collection of more than 18,000 regional artifacts, exhibited in three different spaces. It is l
Skógafoss - Waterfall
Only a few kilometers away from the south shores of Iceland lies the village of Skógar along the Southern Ring Road. It is a popular summer resort cen
SKÓGAR
Skógar is a small village with about 25 inhabitants. Despite its small size, it has various accommodation and restaurant possibilities. Skógar used to
Skyrland
Skyrland immerses your senses in the world of skyr, Iceland's unique superfood. A journey of sights, scents and tastes, you'll discover a 1000-year st
Sleipnir Glacier Tours Iceland
Sleipnir Tours Iceland offers unforgettable Glacier and Ice cave tours on Iceland's second-largest glacier - Langjökull. Our biggest glacier trucks in
Slippurinn
Discover a culinary gem in the heart of Iceland's Vestmannaeyjar/Westman Islands at Slippurinn restaurant. Fast becoming one of Iceland's most renowne
Smidjan brugghus
Smiðjan brugghús is a micro brewery and a restaurant, it was founded by a group of famlily and friends in 2017. It is located in the heart of our beau
South Center
Welcome to South Center - the heart of downtown Selfoss! Serving as the epicenter of local wisdom and insight, our tourist center is more than just a
South Central Apartments
South Central Apartments South Central Apartments offers personal home convenience while traveling in the south of Iceland. All Apartment units are fu
South Central Country Apartments
South Central Country Apartment South Central Country Apartment offers personal home convenience while traveling in the south of Iceland. The Apartmen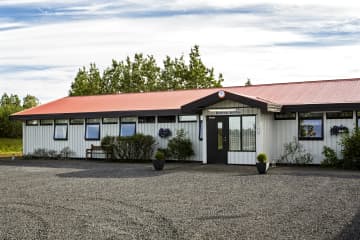 South Central Guesthouse
South Central Guesthouse offers personal cozy rooms and home convenience while traveling in the south of Iceland. The Guesthouse is fully equipped wit
South Iceland Guesthouse
South Iceland Guesthouse provides accommodation with a kitchen, set in Steinar. This property features both WiFi and private parking free of charge. S
Southcoast Adventure
Meeting point - Brú-Road 249 Specializes in tailor-made private & luxury tours and all kinds of day trips around Iceland. Open schedule tours or priva
Sólheimajökull
Sólheimajökull is an outlet glacier that descends from the southwest corner of Mýrdalsjökull. It is a so-called "climate glacier" responding quickly t
SÓLHEIMAR ECO-VILLAGE
Sólheimar is considered the oldest Eco-Village in the world. Sólheimar was established as a children's home 80 years ago. Still, today Sólheimar focus
Sólheimasandur
Sólheimasandur is a sand desert formed by jökulhlaup, or glacial outburst floods, from the Katla volcano system that lies underneath the Mýrdalsjökull
Sólhestar
Sólhestar is a horserental that offers a broad variety of exciting riding tours. Sólhestar is located just 30 minutes (by car) from Reykjavík. The rid
Sólvangur Icelandic Horse Center
Sólvangur is an authentic horse breeding farm in South Iceland where people can learn about and meet the Icelandic horse, visit the stable, take ridin
STOKKSEYRI
STOKKSEYRIStokkseyri, pop. 559 is a charming village renowned for its beautiful seashore, breaking ocean waves and birdlife, and rich in handicrafts a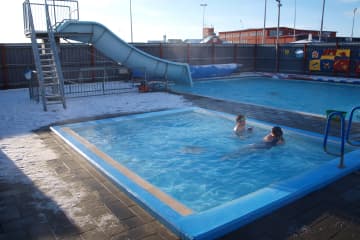 Stokkseyri Swimming pool
In the heart of Stokkseyri is its public swimming pool. It has an 18 meter outdoor pool with a slide, wading pool and two hot tubs. The building has t
Stóri Dímon
Great Dímon is the name of a landmark that landmark East Landeyjar, Fljótshlíð, and West Eyjafjöll. Great Dimon has a sister mountain called Litla Dim
Stracta Hotel
Stracta Hotel Hella is a new hotel in the South of Iceland. The hotel offers various types of accommodation options. The hotel features a panorama res
Strönd at Rangárvellir
Strönd at Rangárvellur is now best known for its 18-hole golf course, run by the Hella Golf Club, but there is also an excellent restaurant there, loc
Ströndin Pub Vík
Ströndin Pub Vík is a modern pub where you can come and relax after a long day exploring beautiful Iceland.  Because of our great location just a few
Surtsey Island
Surtsey, on the UNESCO World Heritage list, from July 7, 2008 Surtsey, Iceland's youngest volcanic island, has been added to the prestigious UNESCO Wo
Svartifoss waterfall
Svartifoss is one of the unique waterfalls in South Iceland. It is situated in Skaftafell, which belongs to Vatnajökull National Park. Svartifoss is 2
Svavarssafn - Svavar Guðnason Art Museum
Svavarssafn (The museum of Svavar Guðnason) is a vibrant, contemporary artmuseum at Höfn in Hornafjordur. The museum hosts various Icelandic exhibitio
Systrafoss Waterfall
Systrafoss is the name of the waterfall where the river Fossá falls from the lake Systravatn, over the mountain edge above Kirkjubæjarklaustur. Low do
Systrastapi
In 1186 a nun monastery was established in Kirkjubær á Síðu. It was later called Kirkjubæjarklaustur, and the topographical names Systrastapi and Syst
The Bobby Fischer Center
This centre houses memorabilia of the 11th World Chess Champion BOBBY FISCHER and the Selfoss Chess Club. The American Bobby Fischer became the World
The Cave People
Can you imagine how it is to live in a cave? Well less than 100 years ago a normal Icelandic family did! The Caves have been renovated the way they lo
The coastline between Stokkseyri and Eyrarbakki
The coastline between the rivers Þjórsá and Ölfusá (25 km/15 mi) forms the outskirt of the great Þjórsárhraun lava field. Eyrarbakki and Stokkseyri pr
The Dairy Farm
The Baugsstaðir Creamery was built in 1905. The creamery produced butter and cheese. It is now open for visitors on Saturdays and Sundays in July and
The Flói Bird Reserve
Northwest to the town of Eyrarbakki is a wetland area, rich in birdlife. The reserve has walking paths and a bird hide, an ideal spot for bird watchin
The Greenhouse Hotel
We are Gróðurhúsið - The Greenhouse Hotel, shops and food hall A new destination in the South of Iceland – offering food, drink, shopping, accommoda
The Highland center Hrauneyjar
The Highland Center Hrauneyjar is situated at the edge of the country´s most impressive and active volcanic area. From here there is a short distance
The Lava Tunnel - Raufarhólshellir
Explore the magnificent lava tunnel Raufarhólshellir, one of the longest lava tubes found in Iceland. The tunnel is located just 30 minutes from Reykj
The Old Dairy Selfoss
The Old Dairy Selfoss - Mjólkurbúið in Selfoss is a true food culture house. Food hall with 8 restaurants, a beer garden, a wine bar, and an exhibitio
The Women's Book Lounge
The Women's Book Lounge, established in April of 2013, is an educational museum dedicated to Icelandic female writers. The lounge's objective is to pr
Thingvellir National park
At the campground there are WC´s, showers, washing machines and a outside grill. In the service centre visitors can pay for camping and fishing permit
Timburhóll - Grove
Timburhóll is a beautiful grove where you can relax and enjoy the surroundings. You could even barbecue using the barbecue facilities provided but use
Torfhús Retreat
The idea of Torfhús Retreat was to create an extraordinary environment for guests from around the world to enjoy the Icelandic countryside at its best
True Adventure
True Adventure ParaglidingFlying is our passion; we dream you can experience the same thrill as us every time we go in the air. The True Adventure tea
Umi Hotel
UMI hotel offers 28 elegantly designed rooms with nature and comfort as the guiding light. They offer both double and twin rooms with private bathroom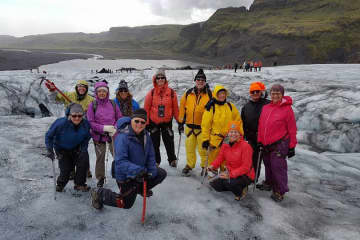 Understand Iceland
Understand Iceland is a family owned and fully licenced travel agency. We specialize in educational tours to Iceland for people of all ages. We lead y
Uppspuni Mini Mill
100% Icelandic Yarn made at Uppspuni MiniMill We are proud to be the very first Mini Mill in Iceland. We have twelve different machines to fully proce
Urridafoss Waterfall
Urriðafoss is a waterfall in the Þjórsá River. Þjórsá is Iceland's longest river, 230 km, and Urriðafoss is the most voluminous waterfall in the count
Uthlid Iceland Cottages
 Catch the rainbow Úthlíð is a rare gem to be found in largely unspoiled Icelandic landscape. It is located centrally from most key locations, only an
Úlfljótsvatn
Úlfljótsvatn is a family campsite run by the Icelandic Scout Association that has served as their home since 1941. At Úlfljótsvatn, campers can camp b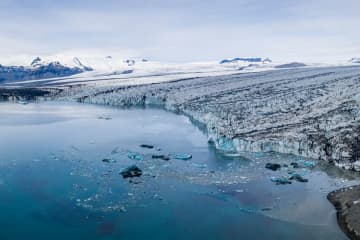 Vatnajökull Glacier
Vatnajökull is the largest glacier in Iceland and the largest glacier by volume in Europe. It covers approx 8 percent of Iceland, measuring an area of
Vatnajökull National Park
Vatnajökull National Park was established in 2008. It includes the national parks in Skaftafell (est. 1967) and Jökulsárgljúfur (est. 1973) along with
Veiðivötn Lakes
Veidivötn Lakes are a magnificent highland oasis. They are a friend in the desert, which no one should miss. Here, the crater formations are of a true
Vestmannaeyjar Boat Tours
Enjoy sailing around Vestmannaeyjar on the South Coast of Iceland in a large sightseeing boat. The sailing takes about 1.5 hour and during the sailing
Vestrahorn
In Iceland, one of the first settlement farms was Horn, built by Hrollaugur, son of Rögnvaldur Earl of Møre in Norway. The Hornafjörður Municipality a
Villingaholt church
A church and farm site and home to the great 17th century saga writer Jón Erlendsson; thanks to his work many of the Icelandic Sagas were preserved th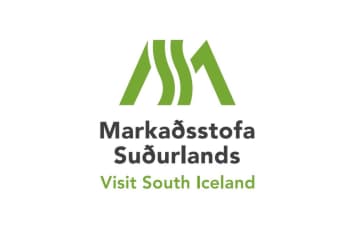 Visit South Iceland
South Iceland Marketing Office Visit South Iceland Ltd., also known as South Iceland Marketing Office is responsible for tourism, marketing and promot
VÍK
Mýrdalshreppur is one of the three municipalities within Katla Geopark, a UNESCO Global geopark. Vík in Mýrdalshreppur is situated in the center of th
Volcano ATV
Volcano tour Come and enjoy with us in a 1 hour ATV tour around the Volcano in Vestmannaeyjar and experience the unique view the island and its surrou
Volcano Huts Þórsmörk
Volcano Huts Þórsmörk Volcano Huts are located in the Þórsmörk nature reserve in Iceland, situated in the Húsadalur valley, between towering glaciers
Vorsabær 2
Holiday houseCosy holiday house in the country side where up to 7 people can sleep. Vorsabær 2 is situated only 80 kilometers from Reykjavík. In the h
Ytri Rangá river
Ytri-Rangá flows past Hella. Its source is to the north of Mount Hekla, in Rangárbotnar at Landmannafréttur, where it surfaces in several places from
Zipline Iceland
Zipline adventure in VíkThe zipline experience in Vík is highly recommended for those seeking an adventure. It involves a hike through Grafargil, with
Þakgil Camping Ground
Þakgil is located in a beautiful valley, surrounded by mountains, 20 km from Vík by road 214. These conditions make the weather in Þakgil  very mild a
Þingborg wool processing
Thingborg Wool shop is located 8 km east of Selfoss, in an old community center and a schoolhouse built-in 1927. A unique wool shop selling handmade q
Þingvallavatn Lake
Lake Þingvallavatn lies in a rift valley that extends south from the Langjokull glacier to mount Hengill and from Botnssulur mountains in the west to
Þingvellir National Park
Þingvellir (Icelandic "Þing": parliament, "vellir": plains) is a place in the southwest of Iceland near the peninsula of Reykjanes and the Hengill vol
Þjóðveldisbær / The commonwealth farm
Þjóðveldisbær / The commonwealth farm is situated under the mountain Sámstaðamúli, and it is an attempt to rebuild in the most credible way, a large f
Þjófafoss waterfall
Þjófafoss is in the river Þjórsá, to the east of the Merkurhraun lava field. The waterfall's name translates as "thieves' waterfall," as thieves used
Þjórsá river
Þjórsá is the longest river in Iceland, 230 km, with a catchment area of 8000 km². Þjórsá is a glacier river, and its source is the Hofsjökull glacier
Þjórsárdalsskógur Forest
The natural setting of the forest follows a varied landscape of intense contrasts, from flowering forests to unripe ash hake from Hekla. The forest is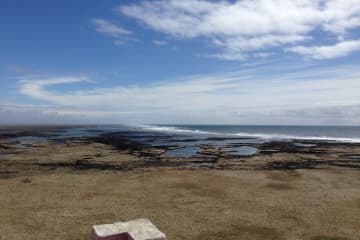 Þjórsárhraun
Þjórsárhraun is the result of the greatest lava flow on earth since the end of the last Ice Age. The lava came from an enormous eruption around 6700 B
ÞORLÁKSHÖFN
The main town in Ölfus is Þorlákshöfn, west of Eyrarbakki. The town is important as a port because the only viable harbour on Iceland's southern coast
Þórbergssetur
The Þórbergur Centre was established in memory of the famous Icelandic writer Þórbergur Þórðarsson (1888 – 1974), who was born in Hali in Suðursveit.
Þóristún
Hotel Thoristun (Þóristún) apartments are situated in one of Selfoss´s old houses along the riverbank. The house was renovated in 2014 but has kept it
Þórsmörk
Þórsmörk (Thórsmörk) is a natural gem that sits between Mýrdalsjökull to the east, the river Krossá in the south, with Markárfljót and Þröngá Rivers
Þuríðarbúð Folk Museum
Þuríðar´s cottage was rebuilt in 1949 in Stokkseyri but cottages such as this were numerous all along the coastline in the past. They were the shelter
Þykkvabæjarklaustur
Þykkvabæjarklaustur is a present and historic church site snuggled in the Álftaver pseudo crater area. In medieval times this was the location of a ca
ÞYKKVIBÆR
Residential area by Hólsá and south of Safamýri. Before, Þykkvibær was flooded in every way. People had to wade up to the waist or deeper to get betwe
Ægissíðufoss waterfall
The Ægissíðufoss waterfall in Ytri-Rangá is a few kilometers further down the river from Hella. The waterfall is a well-known fishing location on the
ÖLFUS
Ölfus municipality is located on the southwest coast of Iceland, approx. 50 km from Reykjavík capital. The population is slightly over 2000 inhabitant
Ölfusá river
Ölfusá river is the most voluminous in Iceland, with an average flow of 423 m³/sec.  Three large floods occurred in the 20th century, and beside the r
Ölfusárbrú - suspension bridge
Ölfusárbrú is a suspension bridge over the Ölfusá River that was first built in 1891 and became the largest bridge in Iceland at the time. In Septembe
Ölverk Pizza & Brewery
Making small batch craft beers from brewery that is powered with geothermal energy and making high quality fire baked pizza has been perfected at Ölve
Ölvisholt brewery
Ölvisholt brewery is a craft brewery located near Selfoss in South Iceland. We craft various exciting beers from quality ingredients. Book a brewery t
Öræfajökull glacier
Öræfajökull: Iceland's highest mountainExtending south from the Vatnajökull icecap within Vatnajökull National Park and towering to around 2,110 m (6,