Shortcuts
Þykkvibær
Þykkvibær is the oldest rural village in Iceland and was in fact the only rural village in the country for around a thousand years. Þykkvibær used to have a range of services, such as a grocery store, slaughterhouse, meat processing plant, primary school and nursery school. Over time, however, as the population dwindled, these services have been moved to Hella or discontinued. At present, the local authorities operate a sports centre, and there is also a potato processing plant in the area, Þykkvabæjar. Þykkvibær boasts of one of the most extensive potato growing operations in Iceland, and the trademark Þykkvibæjar is extremely well known in Iceland.
In years gone past, Þykkvibær used to be isolated, as the river Þverá flowed above the village and made transport difficult. In 1923 came a remarkable turning point in the history of the village when local people banded together and constructed the Djúpósstífla dam, which diverted Þverá into the Hólmsá river. The land above Þykkvibær slowly dried out, and the farmers in the area were able to use it to grow crops. The construction is all the more remarkable as everything was done by hand. The dam is 340 m long and 15 m wide and is still standing.
Fishing used to be practiced extensively from Þykkvibær, and farmers would often travel there from further inland for the fishing season. Seafaring was subject to a wide range of difficulties, and in 1896, the entire Þykkvibær fishing fleet was destroyed. All fishing vessel operation subsequently stopped until 1916, when one vessel was operated from the area. Their number then steadily increased. In 1923, however, no one went fishing, as all working hands were busy constructing the Djúpósstífla dam. Late in March 1955, an eight-oar boat with 11 seamen on board was sailing out the sea. When the boat came out of the outflow channel, however, it capsized, throwing everyone into the ocean. Luckily, all survived. The event was considered particularly remarkable as a photograph was taken at the very moment that the boat was capsizing. This accident put a complete stop to all fishing activities in Þykkvibær.
Tourism services are being developed in Þykkvibær and in the surrounding areas. At present, accommodation and refreshments can be found in several locations, and riding tours along the Þykkvibær shoreline have become a regular feature.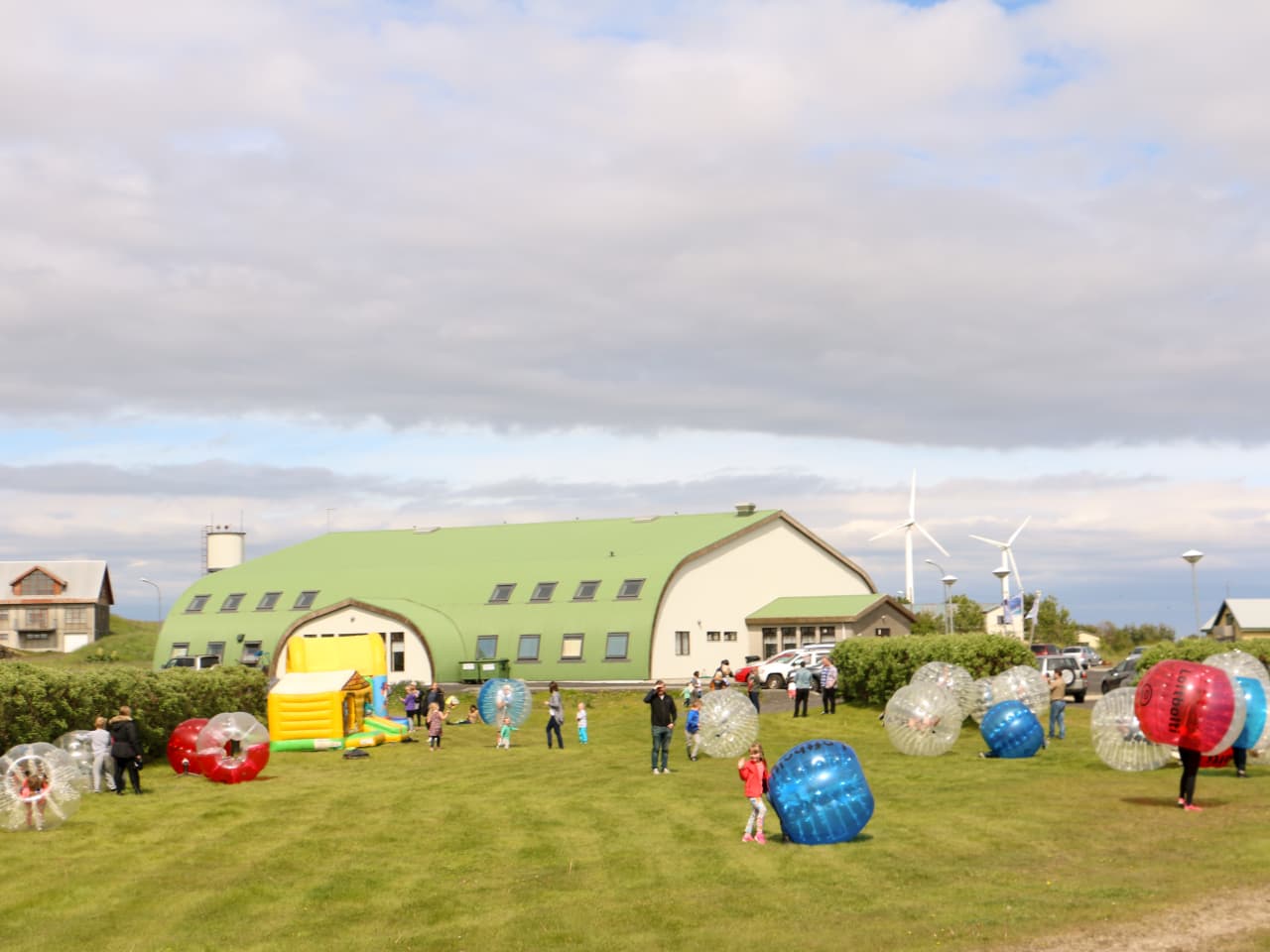 Get directions
Þykkvibær
GPS Points
N63° 44' 45.509" W20° 36' 34.180"
Travel directory for Þykkvibær
The official travel index of Iceland
Apartments
23.73 km
A newly renovated two-story farmhouse with entrance on both 1st floor and in the basement. The second floor consists of 4 bedrooms, each equipped with two beds, a lounge and a bathroom with a shower.
Hotels
18.90 km
Stracta Hotel Hella is a new hotel in the South of Iceland. The hotel offers various types of accommodation options. The hotel features a panorama restaurant, spacious bar, a hotel park with outdoor h
Hotels
0.75 km
Hotel VOS is a small and cosy country hotel located at Norður-Nýibær farm in Þykkvibær, about 10 minutes from Hella. Breakfast is included and dinner is available upon request. The hotel is all o
Others
Welcome Riverside Guesthouse
Apartments
Þrúðvangur 34
850 Hella
487-1212
Fagrabrekka
Guesthouses
Syðri-Rauðilækur
851 Hella
6966004, 487-5051
Welcome Riverside Guesthouse
Apartments
Þrúðvangur 32
850 Hella
487-1212
Welcome Riverside Guesthouse
Apartments
Þrúðvangur 37
850 Hella
487-1212
Hotel Hella
Hotels
Þrúðvangur 6
850 Hella
4874800
Árhús
Guesthouses
Rangárbakkar 6
850 Hella
4875577
Gaddstaðaflatir Camping Ground
Camping
Gaddastaðaflatir
850 Hella
776-0030
Millhouse Riverbank
Guesthouses
Við Rangá
851 Hella
775-1333
Álfasteinn Guesthouse
Guesthouses
Þjóðólfshagi 25
851 Hella
772-8304
Snotra House
Guesthouses
Ásvegur 3
851 Hella
853-4600
Kanslarinn
Hotels
Dynskálum 10c
850 Hella
4875100
Day Tours
16.15 km
Culinary experience
0.47 km
Culinary and Joyful experience at the Barn Kitchen with a group of friends or colleagues. We cook together from Icelandic ingredients straight from the farm. The Barn Kitchen is located in Þykkvibæ
Swimming Pools
17.13 km
The thermal pool in Hella is 25 x 11 meters and and suitable for competitions. 5 different pools are available next to the main swimming pool: 1 massage hot-tub, 2 hot-tubs and 2 shallow wading pools.
Others
Hella Horse Rental
Day Tours
Gaddstaðaflatir
850 Hella
8645950
Toptours / Erlingur Gíslason
Day Tours
Þrúðvangur 36a
850 Hella
487-5530, 861-1662
Horsetravel.is
Horse Activities
Hrólfsstaðahellir
851 Hella
862-8101
Buggy X-Treme
Day Tours
Fossalda 1
850 Hella
772-9922
Hella Golf Club
Golf Courses
Strönd
851 Hella
487-8208