Shortcuts
Brydebud
Brydebúð is situated in the older section of Vík, on the west side of the village, below the so-called "banks". This small museum is at the roots of the mountain Reynisfjall, not far from the ocean.
The storefront was originally built in the Westman Islands in 1831 and was named Godthaabs-outlet. In the year 1895, the merchant J.P.T. Bryde bought this old storefront, had it taken apart and moved to Vik by ship.
Store business was ongoing in Brydebúð until 1980: Bryde-store from 1895 to 1914, Þorsteinn Þorsteinsson & Co. from 1914 to 1926 and Kaupfélag Skaftfellinga from 1926 to 1980.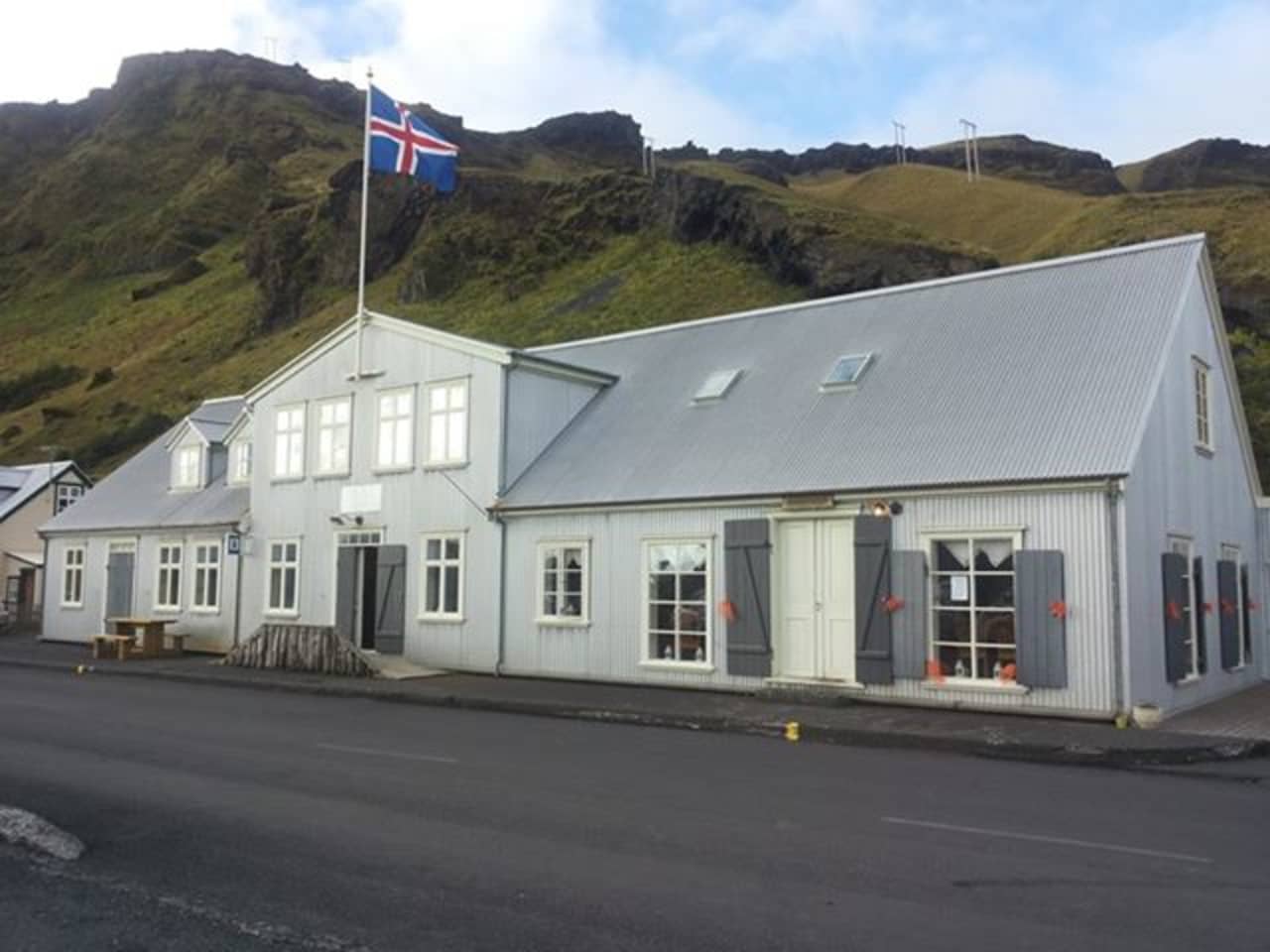 Get directions
Brydebud
GPS Points
N63° 25' 14.044" W19° 0' 18.160"
Travel directory for Brydebud
The official travel index of Iceland
Others
Nordur-Hvammur accommodation
Farm Holidays
Norður-Hvammur
871 Vík
698-9381, 588-0810
Vellir Guesthouse
Guesthouses
Black Beach Suites
Hotels
Norður Foss
871 Vík
779-1166
Grand Guesthouse Garðakot
Guesthouses
Like Vik Guesthouse
Bed & Breakfast
Suðurvíkurvegur 8a
870 Vík
898-8274
Víkurbraut 10
Bed & Breakfast
Farmhouse Lodge
Guesthouses
Skeiðflöt
871 Vík
571-5879
Eystri Sólheimar
Farm Holidays
Mýrdalur
871 Vík
487-1316
Guesthouse Ársalir
Guesthouses
Austurvegur 7
870 Vík
487-1400, 866-7580
Puffin Hostel Vík
Hostels
Víkurbraut 26
870 Vík
467-1212
Guesthouse Gallery Vik
Guesthouses
Bakkabraut 6
870 Vík
487-1231, 849-1224
Puffin Apartments
Apartments
Víkurbraut 26
870 Vík
467-1212
Guesthouse Görðum
Guesthouses
Garðar
871 Vík
487-1260, 776-7098
Skammidalur Guesthouse
Guesthouses
Skammidalur 2
871 Vík
8671393
Hotel Katla - Keahotels
Hotels
Höfðabrekka
871 Vík
487-1208
Sólheimahjáleiga
Guesthouses
Mýrdal
871 Vík
864-2919, 864-2919, 487-1305
Hvammból Guesthouse
Guesthouses
Hvammból
871 Vík
863-2595 , 892-9785
Vík Camping Ground
Camping
Klettsvegur
870 Vík
487-1345, 662-2716
Guesthouse Vellir
Guesthouses
Mýrdalur
871 Vík
487-1312, 849-9204
Vestri Pétursey II
Cottages
Mýrdal
871 Vík
8939907, 845-9907
Presthús evening sun guesthouse
Guesthouses
Presthús 2
871 Vík
7772909
Guesthouse Carina
Guesthouses
Mýrarbraut 13
870 Vík
6990961
Guesthouse Norður-Vík
Guesthouses
Suðurvíkurvegur 5b
870 Vík
3548672
Hotel Búrfell
Farm Holidays
Mýrdalur
871 Vík
4874660, 868-7651
Austurvegur 11
Guesthouses
Austurvegur 11
870 Vík
899-4210
Puffin Hotel Vik
Guesthouses
Víkurbraut 26
870 Vík
467-1212
Guesthouse Reynir
Guesthouses
Reyni
871 Vík
894-9788, 487-1434
Volcano Hotel
Hotels
Ketilsstaðaskóli
871 Vík
486-1200
Others
Ingos Icebreaking Tours
Day Tour Provider
Ketilstaðaskóli
871 Vík
7737343
Hotel Katla - Keahotels
Hotels
Höfðabrekka
871 Vík
487-1208
Vik Horse Adventure
Day Tours
Smiðjuvegur 6
870 Vík
787-9605
Arcanum / Icelandic Mountain Guides
Winter adventure
Stórhöfði 33
110 Reykjavík
587-9999
Vík Golf Club
Golf Courses
Klettsvegur
870 Vík
694-1700, 861-2299
Ingi Már Björnsson
Day Tours
Suður-Foss
871 Vík
894-9422, 487-1494
Mountain Excursion
Hiking Tours - Hiking
Ketilsstaðaskóli
871 Vík
897-7737
Volcano Hotel
Hotels
Ketilsstaðaskóli
871 Vík
486-1200