Shortcuts
Vatnajökull National Park
Vatnajökull National Park, established in 2008, encompasses not only all of Vatnajökull glacier but also extensive surrounding areas. These include the national parks previously existing at Skaftafell in the south-east and Jökulsárgljúfur in the north. Today Vatnajökull National Park covers 14% of Iceland and ranks as Europe's second largest.
In general, national parks are protected areas which are considered unique due to nature or cultural heritage. The unique qualities of Vatnajökull National Park are primarily its great variety of landscape features, created by the combined forces of rivers, glacial ice, and volcanic and geothermal activity.
Description
Vatnajökull is Europe's largest glacier, with a surface area of around 8,100 km2. Generally measuring 400-600 m in thickness and at the most 950 m, the glacial ice conceals a number of mountains, valleys and plateaus. It even hides some active central volcanoes, of which Bárðarbunga is the largest and Grímsvötn the most active. While the icecap rises at its highest to over 2,000 m above sea level, the glacier base reaches its lowest point 300 m below sea level. Nowhere in Iceland, with the exception of Mýrdalsjökull glacier, does more precipitation fall or more water drain to the sea than on the south side of Vatnajökull. In fact, so much water is currently stored in Vatnajökull that the Icelandic river with the greatest flow, Ölfusá, would need over 200 years to carry this quantity of water to sea.
The south side of Vatnajökull is characterised by many high, majestic mountain ridges, with outlet glaciers descending between them onto the lowlands. The southernmost part of the glacier envelops the central volcano Öræfajökull and Iceland's highest peak, Hvannadalshnúkur. Sheltered by the high ice, the vegetated oasis of Skaftafell overlooks the black sands deposited to its west by the river Skeiðará. These sands are mostly composed of ash which stems from the frequent eruptions at Grímsvötn and is brought to the coast by jökulhlaups, or glacial floods. Substantial volcanic activity also characterises the landscape west of Vatnajökull, where two of the world's greatest fissure and lava eruptions of historical times occurred, at Eldgjá in 934 and Lakagígar 1783-1784. Vonarskarð, northwest of the glacier, is a colourful high-temperature area and a watershed between North and South Iceland.
Preservation objectives
The objectives of designating Vatnajökull as a preservation area, along with the main regions it affects, are the following:
• To protect the nature of the region, including the landscape, biota and geological formations, as well as cultural features
• To allow the public to get to know and enjoy regional nature, culture and history
• To provide education on nature and nature conservation and on regional history, society and cultural features, as well as encouraging research to gain greater knowledge of these aspects
• To strengthen communities and business activity in the vicinity of the park.
Visitor centres and other tourist information offices working with the park
Visitor centres and other tourist information offices working with the park provide information and services for the park and its immediate environs. The following offices operate along the south coast of Iceland:
Skaftárstofa Visitor Centre | Kirkjubæjarklaustur | open in summer
Skaftafellsstofa Visitor Centre | Skaftafell | open all year
Skálafell farm | Suðursveit | varying hours - all year
Hoffell farm | Nes | varying hours - all year
Gamlabúð Visitor Centre | Höfn | open all year *
*Opening hours for Christmas and New Year celebration can be found on the website http://www.vjp.is
Get directions
Vatnajökull National Park
GPS Points
N64° 0' 52.594" W16° 58' 3.755"
Travel directory for Vatnajökull National Park
The official travel index of Iceland
Camping
0.21 km
Skaftafellsstofa is an information and education centre where visitors can find answers to their questions about the Skaftafell area, along with information about hiking trails, accommodation and nearby recreational options.
Hotels
21.86 km
Spectacular surroundings and natural wonders Fosshotel Glacier Lagoon is a four-star hotel in Hnappavellir, a popular climbing area. The location is perfect for nature lovers, as it is right between S
Hotels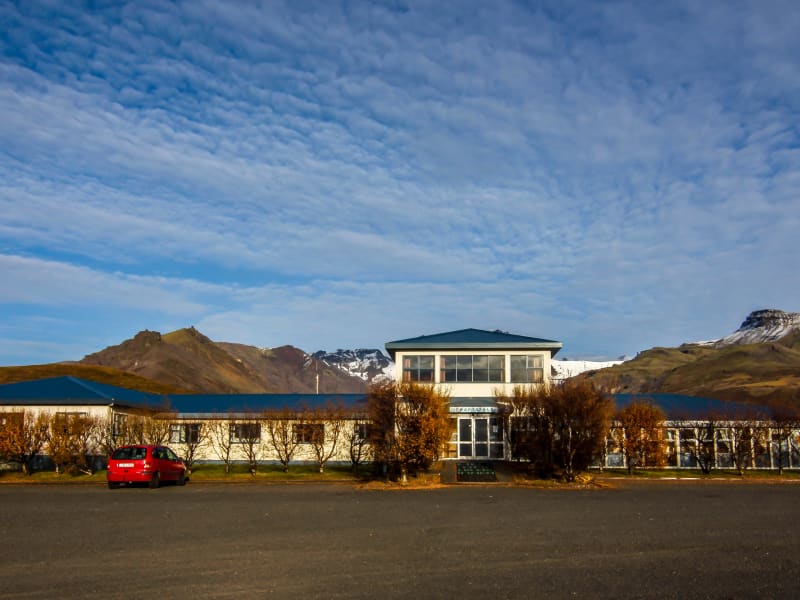 4.46 km
Hótel Skaftafell - our Glacier Hotel South - is a comfortable 3 star tourist class hotel and invites you to one of the most wonderful and panoramic locations in all Iceland.
Others
Adventure Hotel Hof
Guesthouses
Austurhús
785 Öræfi
478-2260
Svínafell Tourist Service
Sleeping bag accommodation
Svínafell
785 Öræfi
8941765, 868-8193
The Potato Storage
Apartments
Langatorfa, Svínafell
785 Öræfi
789-0785, 895-1917, 824-8903
Litla-Hof
Guesthouses
Öræfi
785 Öræfi
478-1670, 894-8670
Vesturhus Hostel
Guesthouses
Hof, Öræfum
785 Öræfi
8545585
Others
Glacier Horses
Day Tours
Svínafell 3, Sel 2
785 Öræfi
847-0037
Glacier Guides
Hiking Tours - Hiking
Skaftafell
785 Öræfi
659-7000
Tindaborg Mountainguides
Travel Agency
Lambhagi, Svínafell
785 Öræfi
866-1503