Shortcuts
Skeiðarársandur
Skeiðarársandur is a large area of black sands, reaching from Skeiðarárjökull (a part of Vatnajökull) and to the sea. It covers an area of 1300 km² and was formed as the glacial rivers in the area washed material towards the sea. The rivers bring forth material that surfaced during sub-glacial volcanic eruptions in Vatnajökull. Near the glacier, the ground is gravelly and even rocky and as it reaches the sea it has turned into sand and clay. There used to be little vegetation to be found on Skeiðarársandur, but in the past decade, a self-sprouted forest of birch trees has been growing lushly in the middle of the area. Skeiðarársandur is a large nesting area for the great skua.
Skeiðarárbrú
Skeiðarárbrú is the name of the bridge that crosses Skeiðará river on Skeiðarársandur, and it´s opening in 1974 marked the opening of the ring road in Iceland. Skeiðarárbrú is a one-lane bridge made of specifically engineered steel trusses. In 1996 there was a volcanic eruption in Grímsvötn in Skeiðarárjökull which created massive floods and glacier melting. The bridge was severely damaged by the hefty amount of floodwaters and house-sized icebergs. All that remains of the original bridge today are two twisted girders by the side of the new road. They form a unique monument to the lovely but powerful beauty of Iceland's natural landscape. Now the bridge has been replaced with a new one, due to changes in the water flow from underneath the glacier. The river flowing under the new bridge is called Morsá.
Get directions
Skeiðarársandur
GPS Points
N63° 59' 35.532" W16° 56' 58.266"
Travel directory for Skeiðarársandur
The official travel index of Iceland
Hotels
19.87 km
Spectacular surroundings and natural wonders Fosshotel Glacier Lagoon is a four-star hotel in Hnappavellir, a popular climbing area. The location is perfect for nature lovers, as it is right between S
Camping
2.72 km
Skaftafellsstofa is an information and education centre where visitors can find answers to their questions about the Skaftafell area, along with information about hiking trails, accommodation and nearby recreational options.
Hotels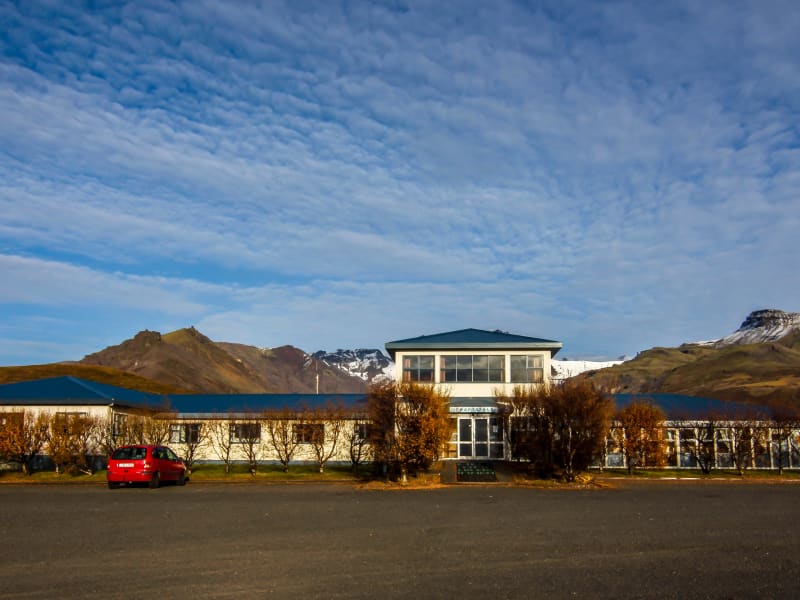 2.69 km
Hótel Skaftafell - our Glacier Hotel South - is a comfortable 3 star tourist class hotel and invites you to one of the most wonderful and panoramic locations in all Iceland.
Others
The Potato Storage
Apartments
Langatorfa, Svínafell
785 Öræfi
789-0785, 895-1917, 824-8903
Svínafell Tourist Service
Sleeping bag accommodation
Svínafell
785 Öræfi
8941765, 868-8193
Adventure Hotel Hof
Guesthouses
Austurhús
785 Öræfi
478-2260
Vesturhus Hostel
Guesthouses
Hof, Öræfum
785 Öræfi
8545585
Litla-Hof
Guesthouses
Öræfi
785 Öræfi
478-1670, 894-8670
Others
Tindaborg Mountainguides
Travel Agency
Lambhagi, Svínafell
785 Öræfi
866-1503
Glacier Guides
Hiking Tours - Hiking
Skaftafell
785 Öræfi
659-7000
Glacier Horses
Day Tours
Svínafell 3, Sel 2
785 Öræfi
847-0037