Shortcuts
Höfðabrekkuheiði, Þakgil
A breathtaking 16 km drive from the ring road no. 1 to Þakgil campsite and hiking area. Surrounded by black sand and glacial rivers a gravel road crosses the heath of Höfðabrekka, a tuff ridge between rivers Múlakvísl and Kerlingadalsá formed during the last Ice Age, when volcanic material forced its way from beneath the glacier following a sub-glacial eruption. The road is closed during the winter. The vegetation in this area is extremely vulnerable to trampling, please keep to trails at all times.
Get directions
Höfðabrekkuheiði, Þakgil
GPS Points
N63° 31' 49.929" W18° 53' 20.569"
Travel directory for Höfðabrekkuheiði, Þakgil
The official travel index of Iceland
Hotels
20.65 km
Hotel Kría is a new hotel opened during the summer of 2018 in the charming town of Vík in Mýrdalur Valley. The Hotel features beautifully decorated rooms in a prime location on the South Coast of I
Sleeping bag accommodation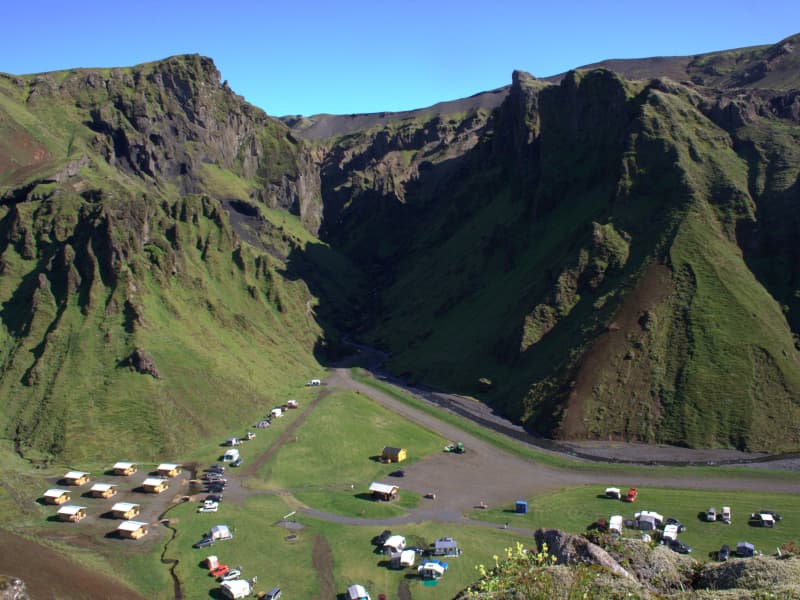 0.10 km
Þakgil is located in a beautiful valley, surrounded by mountains, 20 km from Vík by road 214. These conditions make the weather in Þakgil very mild and calm, and a lovely little freshwater stream trickles though the camping site and in front of the houses.
Hotels
21.38 km
In an impeccable South Iceland hotel location, with striking views of the cliffs, the sea and the Reynisdrangar rock pillars, Hotel Vík í Mýrdal has provided a warm welcome to visitors for decades.
Others
Vík Camping Ground
Camping
Klettsvegur
870 Vík
487-1345, 662-2716
Guesthouse Ársalir
Guesthouses
Austurvegur 7
870 Vík
487-1400, 866-7580
Austurvegur 11
Guesthouses
Austurvegur 11
870 Vík
899-4210
Guesthouse Gallery Vik
Guesthouses
Bakkabraut 6
870 Vík
487-1231, 849-1224
Guesthouse Norður-Vík
Guesthouses
Suðurvíkurvegur 5b
870 Vík
3548672
Puffin Hostel Vík
Hostels
Víkurbraut 26
870 Vík
467-1212
Hotel Katla - Keahotels
Hotels
Höfðabrekka
871 Vík
487-1208
Puffin Apartments
Apartments
Víkurbraut 26
870 Vík
467-1212
Puffin Hotel Vik
Guesthouses
Víkurbraut 26
870 Vík
467-1212
Guesthouse Carina
Guesthouses
Mýrarbraut 13
870 Vík
6990961
Others
Vík Golf Club
Golf Courses
Klettsvegur
870 Vík
694-1700, 861-2299
Vik Horse Adventure
Day Tours
Smiðjuvegur 6
870 Vík
787-9605
Hotel Katla - Keahotels
Hotels
Höfðabrekka
871 Vík
487-1208