Shortcuts
Flóaáveita - canals
Flóaáveitan are canals that run through the entire Flói region, from Ölfusá in the west to Þjórsá River in the east. This monumental construction consisted of 300 km long canals and 900 km of embankments. The Flói irrigation system reached over 12 thousand hectares of land and became a major transition in farming and production in the area at the time. The construction of Flói irrigation system began in 1922 and irrigation began its activities in 1927. When the irrigation was inaugurated in 1927 it was one of the greatest structures in Europe and to this day it plays an important role in transferring water between farms. Beside the sluice gate you will find an information board with more details about the Flói irrigation system. To the east of the sluice gate is a marked hiking trail along Hvítá (about 4,4 km, one way).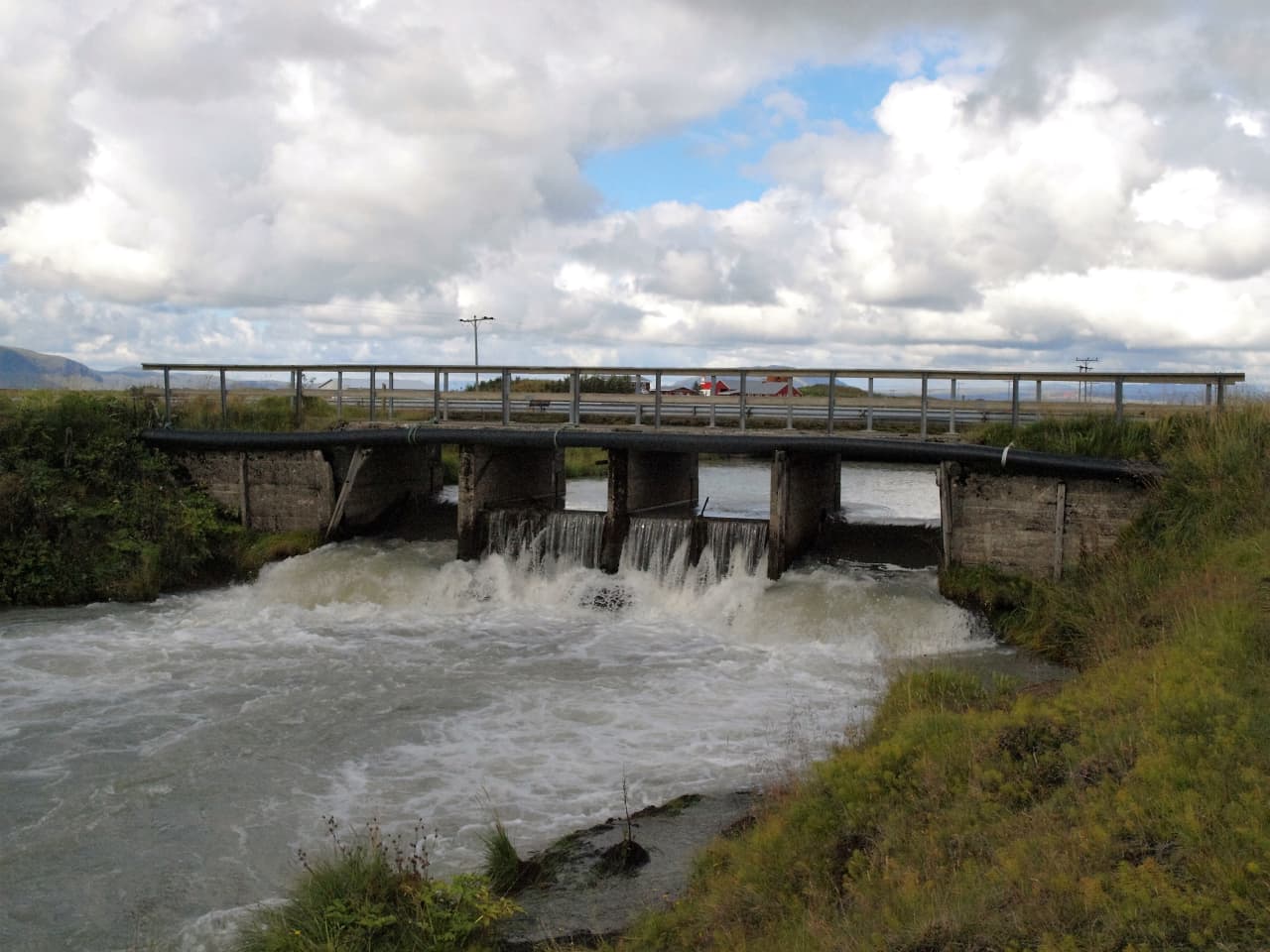 Get directions
Flóaáveita - canals
GPS Points
N63° 56' 33.235" W20° 49' 0.936"
Travel directory for Flóaáveita - canals
The official travel index of Iceland
Others
Vesturbrúnir 4
Cottages
Vesturbrúnir 4
801 Selfoss
867-3448
Midholl Guesthouse
Guesthouses
Miðhóll
851 Hella
898-5828
Þingborg
Sleeping bag accommodation
Þingborg
801 Selfoss
480-4370
Hveragerði Camping Ground
Camping
v/ Reykjamörk
810 Hveragerði
888-1717
Merkurhraun 11
Apartments
Merkurhraun 11
801 Selfoss
Þingborg camp site
Camping
Þingborg
801 Selfoss
691-7082
Guesthouse Gaulverjaskóli / The Old School House
Guesthouses
Gaulverjaskóli
801 Selfoss
551-0654, +354 767-2654
Stokkseyri Camping site
Camping
Sólvellir
825 Stokkseyri
896-2144
Litli-Háls
Cottages
Litli Háls
801 Selfoss
???-????
Hestakráin country hotel / Land og hestar
Guesthouses
Húsatóftir 2a
801 Selfoss
486-5616, 895-0066
Iceland´s Guesthouse
Hotels
Reykir, Axelshús
816 Ölfus
618-8000
Klettar Tower Iceland
Guesthouses
Vacation house
Bed & Breakfast
Varmi Guesthouse
Guesthouses
Varmahlíð 15
810 Hveragerði
8467778, 8617112
Hólar
Guesthouses
Hólar
801 Selfoss
893-7389
Country Dream Guesthouse
Hostels
Langholt 2
801 Selfoss
659-2030
Hverahlid Apartment
Apartments
Hverahlíð 8
810 Hveragerði
853-1500
Camp Boutique
Glamping
Loftsstaðir – Vestri
801 Selfoss
848-5805
Poets House Selfoss
Bed & Breakfast
Þórsmörk 2
800 Selfoss
849-0237
BSG Apartments
Bed & Breakfast
Engjavegur 75
800 Selfoss
486-8642
Hotel Selfoss
Hotels
Eyravegur 2
800 Selfoss
4802500
Alftavik
Cottages
Álftavík
801 Selfoss
822-2202
Bella Apartments & Rooms
Guesthouses
Austurvegur 35
800 Selfoss
482-7800, 859-6162
Icelandic Cottages
Guesthouses
Hraunmörk Flóahreppur
801 Selfoss
898-0728, 567-0728
Guesthouse Heba
Bed & Breakfast
Íragerði 12
825 Stokkseyri
565-0354
Strýta
Cottages
Strýta
816 Ölfus
892-0344, 863-6417
Traustholtshólmi
Glamping
Traustholtshólmi
803 Selfoss
699-4256
The Barn House
Apartments
Strandgata 8b
825 Stokkseyri
660-2050
Inni - Boutique apartments
Guesthouses
Frumskógar 3
810 Hveragerði
6602050
Kálfholt Riding Tours
Horse Activities
Kálfholt II
851 Hella
487-5176, 892-5176
Arctic Nature Hotel
Hotels
Eyravegur 26
800 Selfoss
6154699
Selfoss HI Hostel
Hostels
Austurvegur 28
800 Selfoss
482-1600
Varmahlid Apartment
Apartments
Varmahlíð 6
810 Hveragerði
853-1500
Brautarholt Camping Ground
Camping
Skeiða- og Gnúpverjahreppur
801 Selfoss
663-4666, 823-3999, 486-5518
Bitra Guesthouse
Guesthouses
Bitra
801 Selfoss
480-0700
1A Guesthouse
Bed & Breakfast
Vatnsholt 1A
803 Selfoss
899-9684
Björn Jónsson
Farm Holidays
Vorsabær 2, Skeiða- og Gnúpverjahreppi
801 Selfoss
486-5522, 866-7420
Gljúfurbústaðir
Cottages
Gljúfur
816 Ölfus
892-6311, 483-4461
The 5 Million Star Hotel
Glamping
Ölvisholt
803 Selfoss
773-4444
South Central HI Hostel
Guesthouses
Blesastaðir 3
801 Selfoss
663-4666 , 823-3999
Álfasteinn Guesthouse
Guesthouses
Þjóðólfshagi 25
851 Hella
772-8304
Áslundur
Cottages
Miðengi 17
800 Selfoss
822-2202
Fagrabrekka
Guesthouses
Syðri-Rauðilækur
851 Hella
696-6004, 487-5051
Eyrarbakki Camping ground
Camping
v/Búðarstíg
820 Eyrarbakki
483-1408
Norðheimar
Apartments
Norðurgata 4
801 Selfoss
553-6079
Arabær Holiday Home
Cottages
Arabær , Háfur
801 Selfoss
487-5818, 868-0304
Félagslundur félagsheimili
Sleeping bag accommodation
Félagslundur
801 Selfoss
480-4370
Art Hostel
Guesthouses
Hafnargata 9
825 Stokkseyri
8942910, 894-2910
Others
Selfoss Golf Club
Golf Courses
Selfossi
800 Selfoss
482-3335
Reykjavík Private Cars
Travel Agency
Gjáhella 3
221 Hafnarfjörður
892-0888
Iceland South Coast Travel
Winter adventure
Lambastaðir
801 Selfoss
777-0705
SPS-ferðir
Day Tour Provider
Stekkholt 1
801 Selfoss
856-5255
Kálfholt Riding Tours
Horse Activities
Kálfholt II
851 Hella
487-5176, 892-5176
Núpshestar
Horse Activities
Breiðanes
801 Selfoss
8525930
Eat in Iceland Scenic Food Tours
Day Tours
Ástjörn 7
800 Selfoss
697-9280
Þjóðólfshagi
Day Tours
Þjóðólfshagi 1
851 Hella
898-3038
Björn Jónsson
Farm Holidays
Vorsabær 2, Skeiða- og Gnúpverjahreppi
801 Selfoss
486-5522, 866-7420
Expedition South Coast
Travel Agency
Eyrargata 51-53
820 Eyrarbakki
788-8200
Icelandic Wonders
Winter adventure
Hafnargata 9
825 Stokkseyri
854-4510, 483-1600
Iguide
Travel Agency
Móland 3
800 Selfoss
699 5777
Traustholtshólmi
Glamping
Traustholtshólmi
803 Selfoss
699-4256
Dogsledding Iceland
Winter adventure
Þingvallasvæðið / Þingvellir area
271 Mosfellsbær
8636733
Between the Rivers
Day Tour Provider
Norðurbraut 33
801 Selfoss
822-3345
Sveitagarðurinn - petting zoo and activity park
Mini-Zoo & Open farm
Stóri-Háls
801 Selfoss
898-1599, 697-9461
Bakkahestar
Day Tour Provider
Stekkjarvað 5
820 Eyrarbakki
823-2205
Paintball
Paintball & Lasertag
Kálfhólar 21
800 Selfoss
857-2000
Nskt destination
Day Tour Provider
Tryggvagata 13
800 Selfoss
898-6463
GT Travel
Travel Agency
Fossnes C
800 Selfoss
4801200, 568-1410
Ride With Locals
Travel Agency
Strokkhólsvegur 7
801 Selfoss
699-5777
Aurora Experience
Travel Agency
Hafnargata 9
825 Stokkseyri
551-1166, 895-0020
Laugaskarð Swimming pool
Swimming Pools
Laugaskarð
810 Hveragerði
483-4113
Hveragerði Golf Club
Golf Courses
Gufudalur
810 Hveragerði
483-5090, 483-5091
Hestakráin country hotel / Land og hestar
Guesthouses
Húsatóftir 2a
801 Selfoss
486-5616, 895-0066
Hraun Hestar, Landmannalaugar Riding Tours
Horse Activities
Lýtingsstaðir
851 Hella
868-5577
The Botanical Garden – Hveragerði
Family & Fun Parks
Breiðamörk
810 Hveragerði
483-4000
Travel North
Jeep- & Glacier Tours
Sunnuvegur 5
800 Selfoss
7768707, 7700034