Shortcuts
Laugarvatn Adventure
Laugarvatn Adventure offers exciting caving tours all year round with guaranteed departurs every day from June to August. We are based in Laugarvatn, a small village in the middle of the golden circle, and all our tours start there. You will see our sign from the main road.
Caving trips, super jeep tours, ski touring trips and courses.
Get directions
Laugarvatn Adventure
Háholt 2c
GPS Points
N64° 13' 12.742" W20° 43' 47.543"
Travel directory for Laugarvatn Adventure
The official travel index of Iceland
Others
Laugarvatn Camping Ground
Camping
Háholt 2c
840 Laugarvatn
615-5848
Borg Camping ground
Camping
Borg, Grímsnesi
801 Selfoss
767-3411
Minniborgir Cottages
Cottages
Grímsnes
801 Selfoss
3548683, 863-3592
Heiðarbraut 22
Apartments
Heiðarbraut 22
801 Selfoss
Laugarvatn HI Hostel
Hostels
Dalbraut 10
840 Laugarvatn
486-1215, 899-5409
Austurey cottages
Cottages
Austurey 1
806 Selfoss
7730378
Háholt Cosyhouse
Apartments
Háholt
840 Laugarvatn
862-4809
Galleri Laugarvatn / café
Exhibitions
Háholt 1
840 Laugarvatn
486-1016, 486-1017, 847-0805
Hallkelshoalr
Cottages
Hallkelshólar
801 Selfoss
566-7444, 892-7181, 693-4322
Golden Circle Apartments
Guesthouses
Laugarbraut 1, 3 & 5
840 Laugarvatn
537-8060
Kerbyggd Luxury Houses in Golden Circle
Cottages
Kerbyggð
805 Selfoss
822-5588
Eyvík cottage
Cottages
Heimaás
801 Selfoss
7707800
Blue View Cabins
Cottages
Eiríksbraut 4
806 Selfoss
665-8928, 696-3463
Torfastaðakot 15/Sigurhæð
Cottages
Birkihof Lodge
Cottages
Eyrarbraut 11
801 Selfoss
778-9052, 692-4094
Konungsvegur
Apartments
Konungsvegur 1
840 Laugarvatn
Nature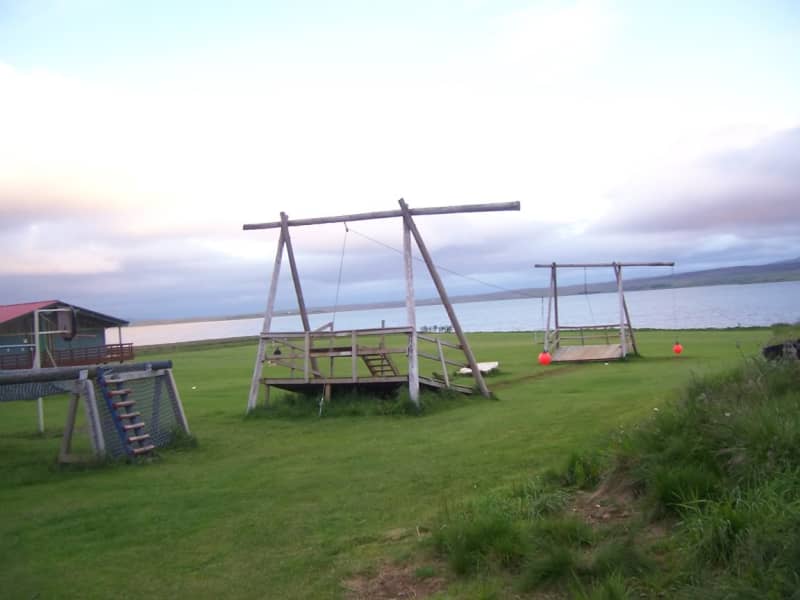 8.84 km
Nature
17.06 km
History and Culture
24.79 km
Situated in the lower part of the Biskupstungur valley between the rivers Hvítá and Brúará, Skálholt is one of Iceland's places of special historical interest. For seven centuries it was the scene of the most dramatic events which shaped the political, spiritual and cultural life in Iceland. Its early history is traced back to the 11th century when religious disputes were at their sharpest in Iceland. Within two centuries of the settlement of Iceland, the first bishopric was founded at Skálholt in 1056 for South Iceland, and soon a second at Hólar in 1109 for North Iceland.
The man who chose Skálholt as the site of the first Episcopal see in Iceland was Ísleifur (1006 - 1080), son of Gissur the White. Skálholt had earlier been his patrimonial estate and his grandfather, Teitur Ketilbjarnarson, was the first settler there. According to an old account, Skálholt was at that time "the largest town in Iceland". Ísleifur's father, who was a wealthy aristocrat and a redoubtable political figure as well, played a decisive role in the Christianization of Iceland and the future status of the church. He built the first church in Iceland at Skálholt around the year 1000.
In the 12th century bishop Klængur Þorsteinsson built a great cathedral at Skálholt. It was a sumptuous edifice made of timber shipped from Norway. For centuries Skálholt was the centre of learning and culture in Iceland, a status which lasted up to the Reformation in 1550.
In 1954, a team of archaeologists, while digging up the foundations of the old cathedral, came upon a sarcophagus which was believed to contain the skeleton of Páll Jónsson, one of the most powerful bishops of Skálholt. His sarcophagus, together with a few relics found at the scene, is now on display in an underground vault beneath the new memorial church built during 1956-1963 on the site of the old cathedral. All churches in Scandinavia contributed financially to its construction.
The last Catholic bishop of Iceland, Jón Arason, was executed at Skálholt in 1550, along with his two sons. He had opposed the Reformation imposed upon Iceland by King Christian III of Denmark. Today, a memorial stands at the site of the execution. Arason's Episcopal robes are on display at the National Museum of Iceland in Reykjavík.
Today, Skálholt is visited for the new cathedral, the tomb of bishops, the museum, and the collection of ancient books in the tower.