Shortcuts
Kirkjubæjarklaustur Swimming Pool
Get directions
Kirkjubæjarklaustur Swimming Pool
Klausturvegur 4
GPS Points
N63° 47' 14.006" W18° 3' 14.962"
Travel directory for Kirkjubæjarklaustur Swimming Pool
The official travel index of Iceland
Hotels
0.43 km
Hotel Klaustur is ideally located for trips to the enormous Vatnajökull glacier and Skaftafell National Park, as well as the magnificent Dyrhólaey sea arch and a boat ride on Jökulsárlón glacier lagoon.
Hotels
6.38 km
Hotel Laki is located 5 km south of Kirkjubæjarklaustur. It is newly built and has 40 rooms with a shower or a bath tub. Open all year.
Farm Holidays
8.43 km
Hunkubakkar offers accommodation with or without a private bathroom in five two-room chalets, each with a small veranda. They are all suitable for 2-3 people. Accommodation is also available in the farmhouse.
Others
Arnardrangur Guesthouse
Guesthouses
Arnardrangur
880 Kirkjubæjarklaustur
620-5006
Kleifar-Mörk Camping Ground
Camping
Við Geirlandsveg
880 Kirkjubæjarklaustur
487-4675, 861-7546
Magma Hotel
Hotels
Tunga
880 Kirkjubæjarklaustur
4200800
Hörgsland Travel Service
Cottages
Hörgsland I
880 Kirkjubæjarklaustur
8612244, 487-6655, 861-2244
Klausturhof Guesthouse
Guesthouses
Klausturvegur 1-5
880 Kirkjubæjarklaustur
567-7600
Kirkjubær Camping Ground
Camping
Kirkjubær 2
880 Kirkjubæjarklaustur
894-4495
Adventure Hotel Geirland
Hotels
Síða
880 Kirkjubæjarklaustur
487-4677
Guesthouse at Seglbudir Landbrot
Guesthouses
Seglbúðum
880 Kirkjubæjarklaustur
697-6106
Eldhraun Holiday Home
Cottages
Syðri-Steinsmýri
880 Kirkjubæjarklaustur
694-1259, 858-7657
Dalshöfði - Guesthouse
Guesthouses
Dalshöfði
880 Kirkjubæjarklaustur
6619550, 861-4781
Nature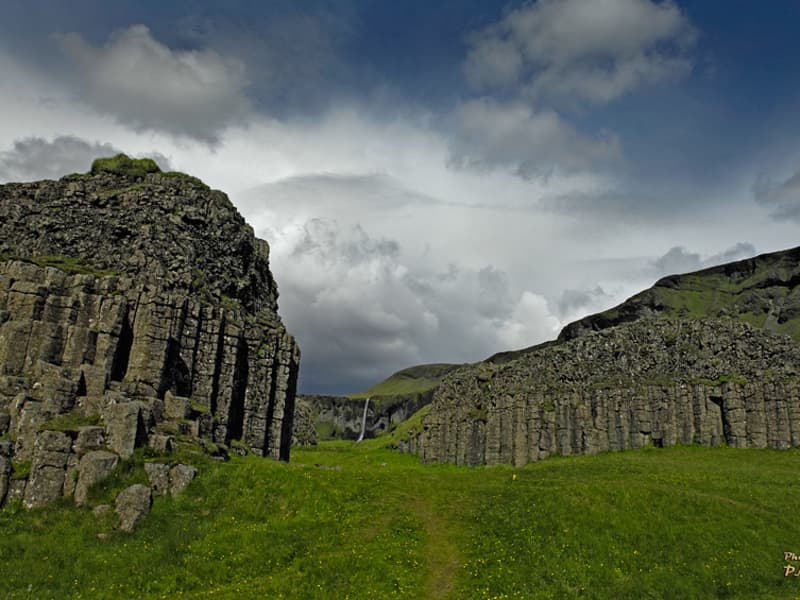 13.43 km
Dverghamrar (Dwarf Rocks), just east of Foss, are peculiar and beautiful formations of columnar basalt. On top of the columns there is cube-jointed basalt. The landscape is thought to have been moulded at the end of the Ice Age. The sea level was higher at that time and it is believed that the waves caused the peculiar look of the rocks. Dverghamrar are a protected natural monument. Columnar basalt is formed when lava flow gets cooled and contraction forces build up. Cracks then form horizontally and the extensive fracture network that develops results in the six sided formation of the columns.
Nature
10.65 km
Fjaðrárgljúfur is a magnificent and massive canyon, about 100 meters deep and about two kilometres long. The canyon has sheer walls, and is somewhat serpentine and narrow. The bedrock in Fjaðrárgljúfur is mostly palagonite from cold periods of the Ice Age and is thought to be about two million years old. The river Fjaðrá has its source in the mountain Geirlandshraun and falls off the heath edge in this stunning canyon until it makes it down into Skaftá river. Fjaðrá has changed a lot in the course of time. Today Fjaðrá is often rather low in water and therefore hikers can safely choose to walk inside the canyon. However, wading is necessary fairly often. Deep in the canyon there are waterfalls so one needs to walk the same way back. Most people choose to walk along a walking path up on the canyon's edge while simultaneously enjoying the view above the canyon.
Formation of the Fjaðrárgljúfur canyon
It is believed that Fjaðrárgljúfur formed at the end of the last Ice Age, about nine thousand years ago. When the glacier retreated, a lake formed in the valley behind a hard resistant rock. The run-off from the lake flowed to where Fjaðrárgljúfur is today. Glacial rivers from the glacier's edge carried a lot of sediment into the lake and the river which ran from it dug itself down into the rock and down onto the palagonite in front of it. Because the cascade has been so large, it was powerful in digging out the canyon. Eventually the lake filled with sediments and the river's strength dwindled. When the lake filled up completely, the river began to dig itself into the sediment layers which it had previously left in the valley. Fluvial terraces on both sides in the valley give an indication about the original height and location of the lake while a deep channel in the palagonite serves as a silent reminder to the power of nature.
More geosites in the neighbourhood: www.katlageopark.com