Shortcuts
Black Beach Restaurant
The Black Beach restaurant and coffee house is located in one of the most amazing nature highlights of the south, Reynisfjara.
In a short walking distance from the basalt formations and the cave Hálsanefshellir the restaurant offers a breathtaking view of Dyrhólaey and the ocean.
The restaurant was built in 2014 and is an architectural beauty where the building blends into the terrain and rocks from the beach were used as building material in the walls.
The coffee house offers; hot soup, freshly made cakes and sandwiches, local discs such as waffles with local ice cream, soft drinks, coffee and tea.
The restaurant offers traditional Icelandic food like lamb, beef and fish.
We offer free wifi to our guests.
Get directions
Black Beach Restaurant
Reynisfjara
GPS Points
N63° 24' 15.386" W19° 2' 38.879"
Service
Travel directory for Black Beach Restaurant
The official travel index of Iceland
Others
Vik Horse Adventure
Day Tours
Smiðjuvegur 6
870 Vík
787-9605
Mountain Excursion
Hiking Tours - Hiking
Ketilsstaðaskóli
871 Vík
897-7737
Ingi Már Björnsson
Day Tours
Suður-Foss
871 Vík
894-9422, 487-1494
Hotel Katla - Keahotels
Hotels
Höfðabrekka
871 Vík
487-1208
Vík Golf Club
Golf Courses
Klettsvegur
870 Vík
694-1700, 861-2299
Ingos Icebreaking Tours
Day Tour Provider
Ketilstaðaskóli
871 Vík
7737343
Volcano Hotel
Hotels
Ketilsstaðaskóli
871 Vík
486-1200
Nature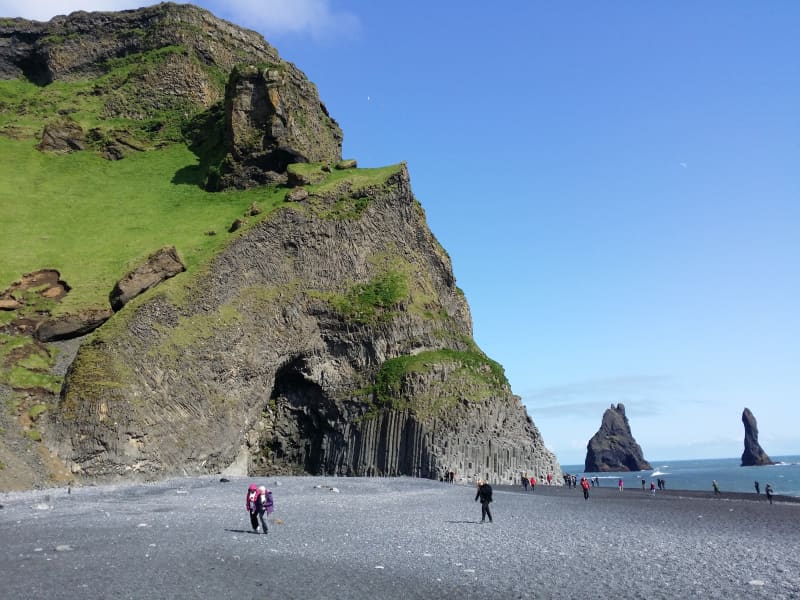 0.00 km
Reynisfjall is a 340 m high tuff mountain arising out of a volcanic eruption from under a glacier in the penultimate Ice Age, near the village of Vik. Alternating in an irregular manner are layers of tuff, pillow lava and columnar basalt veins and loops.
Reynisdrangar stacks are a collection of 66 m high rock pillars that rise out of the sea and are of the same geological formation as Reynisfjall. On Reynisfjöru beach, very beautiful basalt formations in the south part of the mountain can be seen, and there you will find an exceedingly beautiful cave called Hálsanefshellir.
The waves here are deceiving and have caused the death of a number of visitors in recent years, even in the best of weather. Please take great care and keep a good distance from the sea.
Nature
19.02 km
Dyrhólaey is a 120-metre high promontory, not far from Vík. The place got its name from the massive arch that the sea has eroded from the headland. (The name literally means "door-hole"). When the sea is calm, big boats can sail through it. There has even been a maniacal daredevil pilot that flew through the arch with a small-craft airplane! From the top of Dyrhólaey there is a great view. The headland is thought to have been made in an underwater volcanic eruption late in the glacial period, not unlike the eruption of Surtsey. Several outcrops are in the sea, the highest one called Háidrangur ("High column") is 56 m. high. Dyrhólaey has been a natural reserve since 1978. The promontory is widely known among sailors as "Portland", and English trawler fishermen ubeach where one can climb (at your own risk). According to legend the Reynisdrangar needles were formed when two trolls were trying to drag a three-masted ship to land. When daylight broke they turned to stone. The Needles can be seen clearly from the village of Vík and are 66 meters above sea level at their highest. In one of the many caves here - there is a local legend about a monster having lived here for many centuries. The monster seems to have disappeared after a landslide over 100 years ago…sed to call it "Blow hole". There are also amazing rock formations all along the Birdlife here is abundant, with puffins and eider ducks being the most common species in the area. The lighthouse on the top of the cliff stands impressive and stoic in this often very windy area. Be careful not to go too close to the ledge of this dramatic cliff.
Museums
10.91 km
Experience the hot molten lava Icelandic Lava Show in Vík, South Iceland, is the only place in the world where you can safely experience lava up close and personal. Icelandic Lava Show recreates a v
Exhibitions
11.12 km
Katla Center is the center of culture, knowledge and tourism in Vík. We are located in the historic Brydebúð building, built in 1895. Katla Center houses the local information center, souvenir shop
Exhibitions
11.19 km
Vík is a sea-side village with a rich maritime history like the majority of Icelandic towns. However, what sets it apart is the fact that it has never had a harbour. The harsh waves and the shallow s
Others
Víkurprjón - Icewear Icelandic wool
Crafts & Design
Austurvegi 20
870 Vík
585-8522
Others
Hotel Katla - Keahotels
Hotels
Höfðabrekka
871 Vík
487-1208
Puffin Hotel Vik
Guesthouses
Víkurbraut 26
870 Vík
467-1212
Veitingahúsið Suður-Vík
Restaurants
Suðurvíkurvegur 1
870 Vík
487-1515, 8642959
Fagridalur
Farm food direct
Fagridalur
871 Vík
487-1105, 893-7205
Guesthouse Ársalir
Guesthouses
Austurvegur 7
870 Vík
487-1400, 866-7580
Halldórskaffi Café
Cafés
Víkurbraut 28
870 Vík
487-1202, 847-8844
The Soup Company
Restaurants
Víkurbraut 5
870 Vík
778-9717
Vellir Guesthouse
Guesthouses