Shortcuts
Skaftafell Visitor Centre, Skaftafell
Skaftafellsstofa is an information and education centre where visitors can find answers to their questions about the Skaftafell area, along with information about hiking trails, accommodation and nearby recreational options. The centre has an exhibition room with a film about the soutside of Vatnajökull National Park.
At the campsite there is WC, (also for disabled), running water (hot & cold), shower, gift shop, cafeteria, coach service, service station, walking paths, hiking guide, outdoor grills, washing machine. Exhibition showing the geology of the National Park. Service station close by and various other opportunities. For information ask at the service desk. The camping ground is open all year round
Get directions
Skaftafell Visitor Centre, Skaftafell
Skaftafellsstofa
GPS Points
N64° 0' 59.202" W16° 58' 0.736"
Service
Travel directory for Skaftafell Visitor Centre, Skaftafell
The official travel index of Iceland
Others
Glacier Guides
Hiking Tours - Hiking
Skaftafell
785 Öræfi
659-7000
Glacier Horses
Day Tours
Svínafell 3, Sel 2
785 Öræfi
847-0037
Nature
0.02 km
Scenic nature, favorable weather conditions and a network of hiking trails make Skaftafell an ideal destination to enjoy outdoor activities in Icelandic nature. Short and easy trails lead to the waterfall Svartifoss and Skaftafellsjökull glacier, but for those who want to reach further out Morsárdalur valley and Kristínartindar mountain peaks are perfect in terms of distance and labour. Skaftafell is also the perfect base camp for those who seek to climb Iceland's highest mountain peak, Hvannadalshnúkur.
Private travel companies operate in Skaftafell and offer guided hikes on the nearby glaciers and mountains. Also on offer are sightseeing flights over Vatnajökull glacier and other renowned attractions.
Nature
1.62 km
Svartifoss is one of the unique waterfalls in South-Iceland. It is situated in Skaftafell, which belongs to Vatnajökull National Park. Svartifoss is a 20 meters (80ft) high. It is bordered on both sides by tall black basalt columns. The hike to Svartifoss starts at the Visitor Centre in Skaftafell. There you can also find all sorts of information and advice about the area. The hike is about 1.9 km or
45 minutes (one way).
Tour Operators
23.47 km
From Coast to Mountains travel service is a family caompany located in Öræfi in Southeast Iceland, at the foot of Vatnajökull glacier, the largest in Europe.
Others
Adventure Hotel Hof
Guesthouses
Austurhús
785 Öræfi
478-2260
Hotels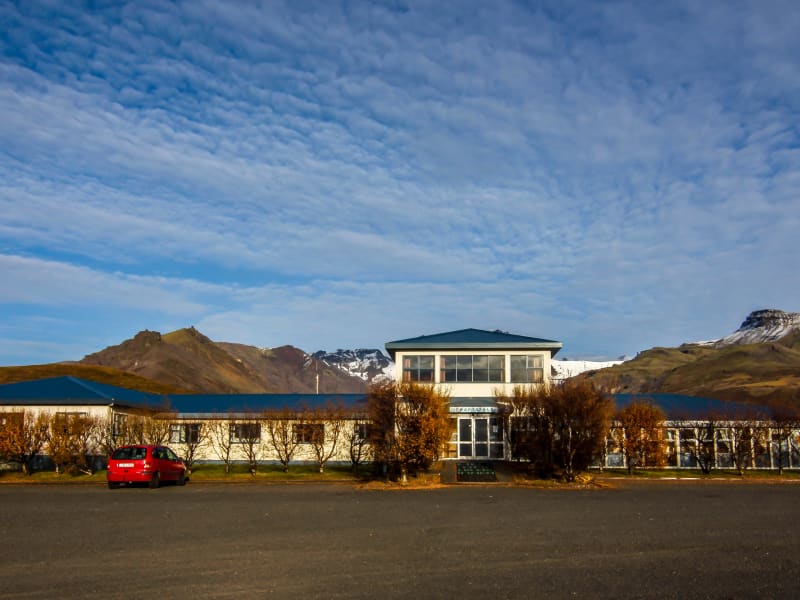 5.07 km
Hótel Skaftafell - our Glacier Hotel South - is a comfortable 3 star tourist class hotel and invites you to one of the most wonderful and panoramic locations in all Iceland.
Others
Glacier Goodies
Diners
Skaftafell
785 Öræfi
858-1755