Shortcuts
LÁ ART MUSEUM
LÁ Art Museum (Listasafn Árnesinga) welcomes you. It runs ambitious and various shows of contemporary as well as modern art in its four spacious exhibitions rooms. The exhibitions reflect our cultural heritage and our contemporary change.
The bright seating area offers visitors the chance to relax in a peaceful setting whilst browsing through art related reading material supplied. The Museum also houses a small café and the children´s corner gives the museum´s younger visitors a chance to enjoy themselves.
The Museum is owned by the eight Municipalities in Árnesinga County and supported by the Museum Council of Iceland.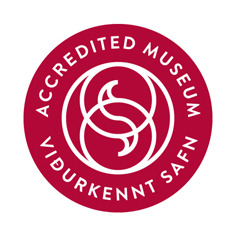 Opening hours

Week days:

Saturdays:
Sundays:
May 1st - September 30th:
12:00-18:00
12:00-18:00
12:00-18:00
October 1st - April 30th:
Thu.-Sun.: 12:00-18:00
12:00-18:00
12:00-18:00
Closed for one month during Christmas and New year.


Get directions
LÁ ART MUSEUM
Austurmörk 21
GPS Points
N63° 59' 47.360" W21° 11' 5.402"
Travel directory for LÁ ART MUSEUM
The official travel index of Iceland
Others
Ride With Locals
Travel Agency
Strokkhólsvegur 7
801 Selfoss
699-5777
Iguide
Travel Agency
Móland 3
800 Selfoss
699 5777
Paintball
Paintball & Lasertag
Kálfhólar 21
800 Selfoss
857-2000
SPS-ferðir
Day Tour Provider
Stekkholt 1
801 Selfoss
856-5255
Eat in Iceland Scenic Food Tours
Day Tours
Ástjörn 7
800 Selfoss
697-9280
Between the Rivers
Day Tour Provider
Norðurbraut 33
801 Selfoss
822-3345
Cora´s House and Horses
Guesthouses
Bjarnastaðir
816 Ölfus
844-6967
Bakkahestar
Day Tour Provider
Stekkjarvað 5
820 Eyrarbakki
823-2205
L.F.C Island
Day Tours
Egilsbraut 4
815 Þorlákshöfn
690-1111
Laugaskarð Swimming pool
Swimming Pools
Laugaskarð
810 Hveragerði
483-4113
Hveragerði Golf Club
Golf Courses
Gufudalur
810 Hveragerði
483-5090, 483-5091
Nskt destination
Day Tour Provider
Tryggvagata 13
800 Selfoss
898-6463
Þorlákshöfn Golf Club
Golf Courses
Hafnarsandi
815 Þorlákshöfn
483-3009, 844-5756
Sveitagarðurinn - petting zoo and activity park
Mini-Zoo & Open farm
Stóri-Háls
801 Selfoss
898-1599, 697-9461
Travel North
Jeep- & Glacier Tours
Sunnuvegur 5
800 Selfoss
7768707, 7700034
The Botanical Garden – Hveragerði
Family & Fun Parks
Breiðamörk
810 Hveragerði
483-4000
GT Travel
Travel Agency
Fossnes C
800 Selfoss
4801200, 568-1410
Alhestar
Horse Activities
Faxabraut
815 Þorlákshöfn
650-6200
Reykjavík Private Cars
Travel Agency
Gjáhella 3
221 Hafnarfjörður
892-0888
Iceland South Coast Travel
Winter adventure
Lambastaðir
801 Selfoss
777-0705
Selfoss Golf Club
Golf Courses
Selfossi
800 Selfoss
482-3335
Others
Turf house
Museums
Asutur-Meðalholt
801 Selfoss
694-8108, 864-4484, 892-2702
Hveragerdi - Stone & Mineral Museum
Museums
Fákasel, Ingólfshvoli í Ölfusi
816 Ölfus
847-3460
Others
Skálinn in Þorlákshöfn
Gas station
Óseyrarbraut 15
815 Þorlákshöfn
483-3801, 8943858
Almar Bakery
Cafés
Larsenstræti
800 Selfoss
483-1919
Meitillinn
Restaurants
Selvogsbraut 41
815 Þorlákshöfn
483-5950, 892-2207
Reykr
Restaurants
Hverhamar
810 Hveragerði
8459193
Bakery Almar
Cafés
Sunnumörk 2-4
810 Hveragerði
483-1919
Bókakaffið / Book-coffee
Cafés
Austurvegur 22
800 Selfoss
482-3079
GÖ Bistro
Restaurants
Öndverðarnes
805 Selfoss
698-6918
Olis - Service Station - Quiznos
Diners
Arnberg
800 Selfoss
480-1300, 840-1749
Hot Dog Stand
Diners
Tryggvagötu
800 Selfoss
482-1782
Þingborg camp site
Camping
Þingborg
801 Selfoss
691-7082
Kaffi Krús
Cafés
Austurvegur 7
800 Selfoss
4821266
Félagsheimilið Borg / Borg Community Hall
Restaurants
Grímsnes
801 Selfoss
480-5500
Dalakaffi
Cafés
Reykjakot 2
816 Ölfus
862-8522
Þrastarlundur
Restaurants
Þrastarlundur
801 Selfoss
8667781
Rósakaffi
Cafés
Breiðamörk 3
810 Hveragerði
4833301
Hofland Eatery
Restaurants
Sunnumörk 2
810 Hveragerði
5377800
Tommi's burger joint
Restaurants
Eyravegur 32
800 Selfoss
8955010
N1 - Service station Selfoss
Gas station
Austurvegur 48
800 Selfoss
482-1005
Domino's Pizza
Diners
Eyravegur 2
800 Selfoss
581-2345
Subway
Diners
Eyrarvegur 2
800 Selfoss
530-7071
HVER Restaurant
Restaurants
Breiðamörk 1c
810 Hveragerði
483-4700
Café Sól
Cafés
Selvogsbraut 41
815 Þorlákshöfn
8228998
Kebab
Restaurants
Eyravegur 3 neðri hæð
800 Selfoss
7744434
GK Bakarí
Cafés
Austurvegur 31b
800 Selfoss
4821007
Ísbúðin okkar - Ice Cream
Cafés
Sunnumörk 2
810 Hveragerði
7773737
Svarti Sauðurinn
Restaurants
Unubakki 4
815 Þorlákshöfn
483-3320
Surf & turf
Restaurants
Austurvegur 22
800 Selfoss
482-2899, 896-1250
Fiskverslun Hveragerðis
Shopping
Breiðumörk 2
810 Hveragerði
851-1415
Hotel Selfoss
Hotels
Eyravegur 2
800 Selfoss
4802500
KFC - Kentucky Fried Chicken
Restaurants
Austurvegur 46
800 Selfoss
570-6763, 570-6763
Vor restaurant
Restaurants
Austurvegur 3
800 Selfoss
482-3330
Hveradalir restaurant
Restaurants
Skíðaskálinn í Hveradölum
110 Reykjavík
8948060, 567 2020
Krisp restaurant
Restaurants
Eyrarvegur 8
800 Selfoss
845-4252, 482-4099
Krían - Bar & Pub
Restaurants
Kríumýri
801 Selfoss
897-7643 , 899-7643
Tryggvaskáli Restaurant
Restaurants
Tryggvatorg
800 Selfoss
4821390
Matkráin
Restaurants
Breiðamörk 10
810 Hveragerði
4831105